cybersecurity
Trump Report Warns Military at Risk as Industry Relies on China
By and
Trump Report Warns Military at Risk as Industry Relies on China
By and
China supply-chain dominance poses danger of 'Trojan chips'

Pence speech condemned by China for 'unwarranted accusations'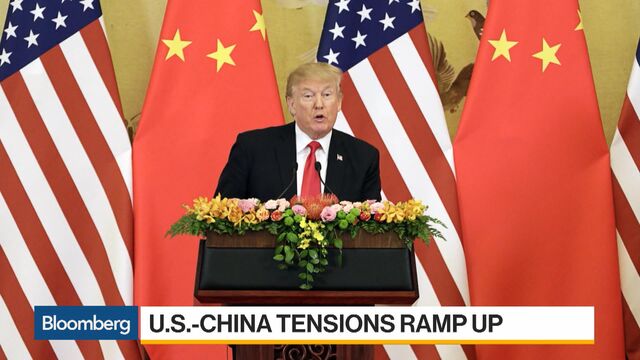 The Trump administration warned that too much of the U.S. defense industry is dependent on China or vulnerable to hacking directed by Beijing, part of a mounting campaign to pressure the Chinese government.
"All facets of the manufacturing and defense industrial base are currently under threat, at a time when strategic competitors and revisionist powers appear to be growing in strength and capability," according to a report released Thursday, which highlighted dangers it said are posed by China.
The report, ordered by President Donald Trump last year, is the latest shot at China by the Trump administration as it mounts a trade war that has spilled over into increasingly tense relations with the Chinese military. The Defense Department took the lead on the study.
China is accused in the report of a range of anti-competitive practices described as threatening U.S. national security. China's cyber espionage, forced technology transfers, currency manipulation and "aggressive trade and infrastructure policies" all put the U.S. at risk, the report said.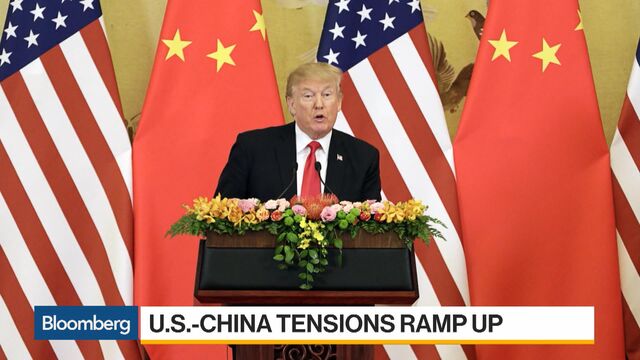 Pence's Speech
It was released hours after Vice President Mike Pence gave a speech assailing Chinese aggression and outlining plans by the administration to take a tougher stance against Beijing on trade, human rights and defense.
"Beijing is employing a whole-of-government approach, using political, economic and military tools, as well as propaganda, to advance its influence and benefit its interests in the United States," Pence said in the address at the Hudson Institute in Washington, just days after Trump accused China of attempting to meddle in the upcoming U.S. midterm elections.
Hua Chunying, a Chinese Foreign Ministry spokeswoman, said in a statement that Pence's speech "made unwarranted accusations against China's domestic and foreign policies and slandered China by claiming that China meddles in U.S. internal affairs and elections. This is nothing but speaking on hearsay evidence, confusing right and wrong and creating something out of thin air."
Read More: Pence Casts China as Republican Campaign Foe in Harsh Speech
The report highlights risks posed by China's dominance in technology supply chains, including in printed circuit boards, where U.S. based companies have a shrinking footprint.
Bloomberg Businessweek reported Thursday that China exploited vulnerabilities in the U.S. technology supply chain to sneak spy chips onto servers used by U.S. companies. Amazon.com Inc. and Apple Inc. were among almost 30 companies infiltrated, according to the report. Amazon, Apple and the Chinese government denied the report in statements.
In its report, the Trump administration found that Chinese domination of technology supply chains raised the danger "Trojan chips" would infiltrate U.S. defense systems.
"With the migration of advanced board manufacturing offshore, DoD risks losing visibility into the manufacturing provenance of its products as many domestic manufacturers have offshore manufacturing facilities or relationships," the report said, using an acronym for the Defense Department.
Drone Dominance
The report also said that a single Chinese manufacturer accounts for 70 percent of the commercial drone market, "including a dominance in the small unmanned aerial system subsector." Because of concerns "around security of the software associated with the platform," the Army issued a memo last year ordering soldiers to stop using applications created by the Chinese company, according to the report.
The decline of U.S. manufacturing in recent decades has reduced domestic suppliers of several goods used by the military, including some textiles, night-vision components, metals, batteries and other electronics, according to the report.
A shortage of workers skilled in the fields of science, technology, engineering and math has also handicapped the U.S., it added. As many as 25 percent of graduates from U.S. colleges with degrees in such fields are Chinese nationals, the report found. It called for more training of U.S. workers in those fields.
— With assistance by Jennifer Epstein
(
Updates with Chinese Foreign Ministry statement on Pence speech in seventh paragraph.
)