Politics
Putin Denials Mask Dismay at 'Laughable' Spy Shortcomings Abroad
By and
Putin Denials Mask Dismay at 'Laughable' Spy Shortcomings Abroad
By and
State television commentator blasts "incompetent" GRU agents

Russia faces renewed sanctions risk over espionage allegations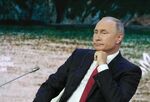 Beneath President Vladimir Putin's angry denials that Russian spies were involved in attempted murder and hacking operations abroad, there's palpable unease at the catalog of sometimes laughable mishaps by his now-infamous GRU military-intelligence service.
Accusations by the Netherlands, the U.K. and the U.S. that four GRU agents were caught attempting to hack into a United Nations body investigating a deadly nerve-agent attack on a former spy in England may galvanize the West into imposing further sanctions on Russia.
One commentator on Russia's usually tightly-controlled state TV blasted the "incompetent" intelligence officers and said "the whole world is laughing at us." While western nations often cast Russia "as a strong and vicious enemy, it's not so unpleasant as when we seem like a joke," political consultant Dmitry Nekrasov said on Rossiya 1 TV.
Even before the latest revelations, Putin betrayed his irritation with the performance of his spies. He took a dig at the alleged agents accused of carrying out the U.K. attack after his Foreign Intelligence Service chief Sergei Naryshkin -- whose agency is traditionally in competition with the GRU -- acidly observed that Russia couldn't have been behind the operation because it was done so unprofessionally.
British police reconstructed the movements of two alleged agents using CCTV images that showed them traveling from London to the city of Salisbury where the murder attempt was carried out against the Russian former spy Sergei Skripal in March. Dutch intelligence broke up the operation in The Hague in April.

Hacking Charges
U.S. prosecutors weighed in with indictments on Thursday of seven GRU intelligence officers on charges of hacking and fraud including against world anti-doping authorities who'd exposed state-backed cheating by Russian athletes. They included the four agents in the Netherlands' case and three other men who were also charged in July for alleged cyber attacks in the 2016 U.S. election.
Skripal, whom Putin denounced as a "scumbag" and a"traitor," survived the poisoning together with his daughter, Yulia. Salisbury resident Dawn Sturgess died in July after she was later exposed to the nerve agent Novichok hidden in a fake Nina Ricci perfume bottle that had been thrown away after the attack.
"Are they working for the cleaning service?" Putin said at a forum in Moscow on Thursday. "Some guys came to England and started poisoning homeless people. This is nonsense."
Russia has denied responsibility and the men British authorities accused of carrying out the operation using false identities claimed they were simply tourists in an interview on Kremlin-funded RT TV. The Bellingcat investigative website reported last month, however, that one of the men is really a decorated GRU colonel.
'Let Down'

"Putin is well aware that he was let down by his own special services," said ex-KGB major Alexey Kondaurov, "His emotional public reactions speak volumes: he's confused, angry and worried."
Some analysts have speculated that occasional exposure of the GRU's actions is less about Russia's incompetence than a readiness to send a message that it's determined to act. Others have suggested that it's a price Russia's willing to pay for an aggressive program of espionage activities abroad.
The attempt in The Hague to hack the headquarters of the Organization for the Prohibition of Chemical Weapons, which was examining evidence in the case presented by the U.K., is intensifying pressure for the U.S. and European Union states to impose further sanctions on Russia.
The botched operation enabled Dutch intelligence to get their hands on evidence of wider hacking. Agents who examined the laptop belonging to one of the Russians found he'd used public wifi services in Kuala Lumpur, Malaysia and in Lausanne, Switzerland, during an International Olympic Committee meeting about the doping scandal.
Laptop Evidence
"Good tradecraft would have been that the laptops should have been completely scrubbed beforehand" so that they only had information necessary to the operation, said Mark Galeotti, an expert on Russian security affairs who's a senior fellow at the Institute of International Relations in Prague.
The Netherlands used the laptop data to accuse the GRU of targeting the Malaysian investigation into the 2014 downing of a Malaysia Airlines passenger plane over eastern Ukraine, in which 298 people died. The Kremlin has denied involvement in the crash. A Dutch-led joint investigation team in May said a BUK missile belonging to the Russian army was responsible.
Still, despite the embarrassment, there's no sign that Russia is prepared to back down from its stand-off with the West or to stop deploying military-intelligence agents for special operations abroad. The Kremlin's also armed with a large and sophisticated hacking operation to try to leverage influence against its adversaries.
"Do not expect the GRU, do not expect the Kremlin to stop its current adventurism," said Galeotti, the security expert. "At the moment the costs are not great enough."