new economy forum
Climate Talks President Is Optimistic as He Balks at Carbon's Jump
By and
Climate Talks President Is Optimistic as He Balks at Carbon's Jump
By and
Poland's Michal Kurtyka will convene December climate talks

Carbon probably needs to rise more to avert runaway warming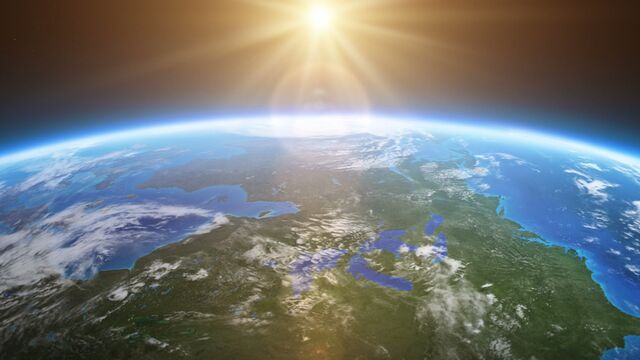 The president of the next round of key climate negotiations expects countries to bridge disagreements and make progress toward solutions to stave off catastrophic global warming.
"I'm an optimist," said Michal Kurtyka, who'll oversee the December negotiations in Poland, in an interview. "I don't have a feeling that there's a major problem" following last month's talks in Bangkok that showed "fantastic involvement of all the countries," he said.

The United Nations talks in Thailand's capital made enough progress to establish a framework to implement the landmark 2015 Paris accord. However, diplomats continued to stumble over details on a plan that would see industrialized nations annually finance some $100 billion of projects in developing countries. Debate is still raging over how ambitious rich countries should be compared with emerging economies.
Kurtyka said that the question of finances is indeed "one of the central issues" of the possible agreement to be discussed in Katowice -- the capital of Poland's coal basin.
"On one hand, there's a question of predictability of cash flows," he said. "On the other there's an issue of limitations of how the budgets are constructed."
Read How the Climate-Change Debate Has Shifted, Not Ended
The additional round of talks of climate representatives in New York were "successful" and "pushed us another step toward a complete and balanced agreement," said Kurtyka, adding that the potential deal is "very ambitious due to political and technical complexity."
If common ground is found, the climate rule book "will be in place for the next decades," according to Kurtyka, who also said that following meetings could be more about "sharing experiences."
"From the point of view of legal framework, Katowice is undoubtedly crucial and it should be a milestone in the history of the process," the president said.
Kurtyka, also Poland's deputy environment minister, said the European Union's surging carbon price was running ahead of plan and questioned whether the bloc should boost its ambitions for 2030.
EU carbon allowances have tripled this year to almost 20 euros ($23) a ton and are heading toward 30 euros about 10 years early, Kurtyka said, adding that the price "shouldn't be so high as it is today."

Some people question whether coal-reliant nations like Poland, which gets more than four-fifths of its power by burning the high-emissions fuel, can bear the additional cost of rising prices on pollution. Adaptation is nevertheless needed now, according to scientists and economists, to avoid pushing the world's climate past a tipping point.
They argue much higher carbon prices are essential to avert the superstorms, droughts and famine predicted from runaway climate change. Some recommend an immediate price of about $40 a ton. A panel of scientists gathered by the UN said earlier this week average European carbon prices would probably need to be about 20 times higher than current levels from 2030 to 2100.
Global Climate Rules Seen Needed to Protect Europe Business
With weeks to go before negotiators are meant to agree on the rules for the landmark climate agreement, Europe faces soaring energy costs due in part to the unprecedented surge in the price of carbon. That could put companies at a trade disadvantage to regions with looser legislation, said Nick Stansbury, head of energy strategy at Legal & General Group Plc's investment management unit, which oversees about $1.3 trillion.
"Either Europe continues down this road and has a structural cost disadvantage compared with the rest of the world -- with massive implications -- or we agree a global decarbonization framework which is genuinely effective," Stansbury said in an interview. Without that, "then the rest of the world has a massive incentive to freeload off Europe's magnanimous policy."
(
Updates with additional comments from COP24 President from 4th paragraph.
)