politics
Dirty Money, Fraud and Tax Evasion Rock Corruption-Free Denmark
By and
Dirty Money, Fraud and Tax Evasion Rock Corruption-Free Denmark
By and
Transparency International strikes a warning note for Denmark

Danske Bank is just one of a string of recent Danish scandals
A series of major scandals in Denmark is testing its status as one of the world's least corrupt nations, with Transparency International warning that its image may now be at risk.
The Scandinavian nation known for its love of bikes, equality and welfare has more recently been associated with money laundering, tax evasion and embezzlement. The development should force Danes to review their assumptions about how honest their country is, according to Jesper Olsen, the deputy chairman of Transparency International in Denmark.
The scandals, including laundering allegations against Danske Bank A/S, "make people look at Denmark in a different light," said Olsen.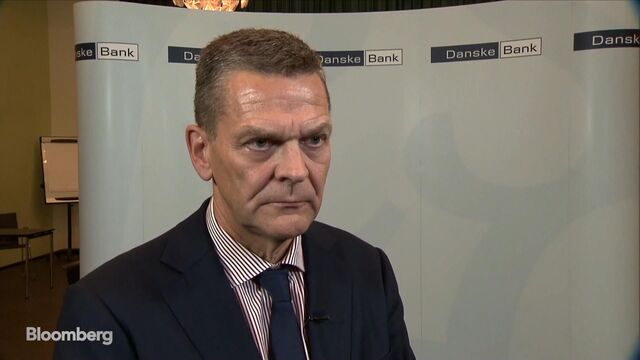 Margrethe Vestager, a former Danish minister who is now the European Union's competition commissioner, said her colleagues in Brussels are closely following the saga engulfing Denmark's biggest bank.
"The Danske Bank case really gets a tremendous amount of attention because money laundering is such an extremely serious matter and the scope is incomprehensibly huge," she said in Copenhagen on Friday.
According to the latest ranking, which is for 2017, Denmark is the world's least corrupt country after New Zealand. Transparency International bases its reports on surveys of other countries' perceptions and that methodology means it's still "too early to say" whether the Danske laundromat case will affect Denmark's status, Olsen said.
A Long List

But the list of scandals is long. Danish police are trying to track down billions of dollars in taxes that were lost either through evasion or because of a multi-year campaign of dividend fraud. Most recently, a senior employee at Denmark's social ministry was put on Interpol's chase list after she ran off with about $17 million in government funds. On Friday, three volunteer associations that received government subsidies were reported to police for possible fraud.
Denmark's political system is also under scrutiny. After failing to implement changes recommended four years ago, the country was last month placed by the Council of Europe anti-corruption experts (known as Greco) on a list of states that haven't done enough to prevent corruption among members of parliament and the judiciary.
The country is also suspected of having misused EU subsidies. A government agency's handling of 875 million kroner ($136 million) intended for the fishing industry, three quarters of which came from the EU, was so poor, and in some cases illegal, that Denmark may have to return the funds, an auditor's report concluded this week.
In a September report, Transparency International said that Denmark is among 22 countries that do little or nothing to enforce a global agreement against bribery. Examples include the failure of Danish authorities to investigate allegations that have arisen since 2013, according to the report.
Abuse of Power

"The definition of corruption is the abuse of trusted power, and these cases have to be a wake-up call not just for the authorities but for everyone in Denmark," Olsen said.
Later this month, Denmark will host the International Anti-Corruption Conference, drawing more than 1,200 delegates from 100 counties. It's the first time the event is being held in Scandinavia, and Danish Prime Minister Lars Lokke Rasmussen will be a keynote speaker.
Denmark is still ranked number one when it comes to the rule of law by the World Justice Project. It is tied with Sweden and Finland in topping global sustainability rankings.
But Olsen says the Danes shouldn't take their country's respected status for granted.
"People think it just has to do with money in brown envelopes and bribing of officials," Olsen said. "We may not have that but we have corruption in many other ways."
(
Adds comments from Margrethe Vastager.
)