politics
DUP Leader Issues Threat to May as Brexit Compromise Edges Near
By and
DUP Leader Issues Threat to May as Brexit Compromise Edges Near
By and
Says plan means 'barrier' between N. Ireland, rest of U.K.

Theresa May relies on DUP lawmaker for majority in Parliament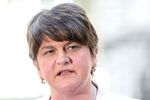 The leader of the Northern Irish party that keeps Prime Minister Theresa May in power said she couldn't accept a Brexit compromise being hashed out in Brussels, throwing into doubt May's ability to seal a deal and keep her government together.
Arlene Foster, leader of the Democratic Unionist Party, said she's determined not to agree to the European Union's so-called backstop plan to keep the Irish border open after Brexit.
After three days of talks with EU representatives in Brussels, Foster warned May's government not to "recommend a deal which places a trade barrier on United Kingdom businesses moving goods from one part of the Kingdom to another."
Foster's warning comes just as the two sides are inching toward a compromise over the thorniest issue in the Brexit talks and as May was about to brief her ministers on progress. Without an agreement on the border, there won't be a divorce deal at all.
On Thursday, negotiators were discussing how to make the backstop more palatable -- with wording to make it look like a temporary fix and one that's unlikely to ever be used, according to people familiar with the situation.
Read more: Foster's 'Blood Red' Lines Pose Threat to Brexit Endgame
The DUP's Brexit spokesman Sammy Wilson also issued non-too subtle threats, saying in a BBC interview there would be "consequences" if May caved into "unreasonable" demands from the EU. He called on the premier to "live up to promises." May has repeatedly said she wouldn't let Brexit carve Northern Ireland off from the rest of the U.K.
The need for a backstop was agreed by the U.K. and EU to provide a legal guarantee to ensure that the border between Ireland and Northern Ireland remains all but invisible after Brexit. The problem is how to deliver that while the U.K. leaves the EU customs union and begins writing its own regulations, which would normally mean checks and other infrastructure are needed.
Why Ireland's Border Is Brexit's Intractable Puzzle: QuickTake
The EU has proposed that Northern Ireland should stay inside its single market while the rest of the U.K. leaves -- an idea rejected by May because it would mean a border in the Irish Sea that separates one part of the U.K. from the rest. But the premier is considering allowing a regulatory border in the Irish Sea to solve the problem, according to a senior government official.
That's unacceptable to the DUP, on which May relies on to govern because her Conservative Party doesn't have a parliamentary majority. On Wednesday, the DUP's 10 lawmakers abstained on a piece of government business, another warning to May to adhere to its demands.
The party "will take decisions based on what is best for everyone in Northern Ireland and the rest of the United Kingdom," Foster said in the statement.