economics
ECB Holds Off Pushing the Alarm Button Over Global Risks
By
ECB Holds Off Pushing the Alarm Button Over Global Risks
By
Central bank publishes account of Sept. 12-13 policy meeting

Officials stressed economy is strong enough to ride out risks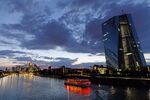 European Central Bank policy makers held back from raising the alarm about risks to the euro-area outlook even after a debate that noted mounting global threats.
At its last policy meeting, the Governing Council focused on the impact of trade protectionism and even said that there was a case for characterizing the risks as "tilted to the downside given the clear prevalence of downward global risks." It ultimately decided that the strength of the domestic economy meant it could stick to "broadly balanced."
The debate during the Sept. 12-13 meeting highlights the difficult navigation for the ECB as it starts to wind down its stimulus while also keeping an eye on global trade disputes, emerging market turmoil and Italy's budget-related bond ructions. President Mario Draghi has since said the euro-area economy is strong enough to cope with global tensions.
But the publication of the accounts comes amid a global equity selloff that Goldman Sachs says is due to mounting worries about the global outlook. Just this week, the IMF said world economic expansion is plateauing as it trimmed its growth projections for the first time in more than two years.
In September, the ECB lowered its own forecasts, and a remark was made in the meeting that some of the factors behind the revisions "might not be entirely of a transitory nature." At the same time, officials said the recent moderation reflected convergence toward the economy's potential.
"Caution was seen as warranted since heightened uncertainty in the global environment might yet impact the euro area more significantly over time," the ECB account said.
What our economists say:

It's "confirmation that the Governing Council is increasingly concerned about the deceleration of GDP growth. However, the slowdown hasn't been pronounced enough to alter monetary policy for the euro area. That's likely to remain the case."

--David Powell, Bloomberg Economics. See the full REACT
Policy makers also referenced the euro's advance of more than 10 percent since the beginning of 2017, though noted that recent moves largely reflected developments in the Turkish lira.
Policy makers expressed satisfaction with investors' reaction to their June decision to gradually phase out asset purchases until the end of the year. And they said their current stance shouldn't be changed because of "small changes in the outlook."
The account suggests that Governing Council members disagreed over whether to keep some flexibility to increase stimulus again as needed. "It was widely considered prudent" to stick to a previous pledge to "adjust all instruments as appropriate," according to the report.
(
Updates with details from account from fifth paragraph.
)