politics
Republican Lawmaker's Insider-Trading Trial Scheduled for 2020
By
Republican Lawmaker's Insider-Trading Trial Scheduled for 2020
By
N.Y Congressman accused of tipping son to negative drug trial

Prosecutor sought earlier date in 'public interest' case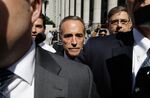 New York Republican Congressman Chris Collins might have two election campaigns upended by securities fraud charges.
His 2018 campaign was thrown into turmoil when he and his son were accused in August of insider trading in an Australian biotechnology company. And should the Republican win reelection, his trial might come just as he's preparing for the 2020 campaign.
U.S. District Judge Vernon S. Broderick in Manhattan set the start of the trial for Feb. 3, 2020, even though prosecutors had pressed for an earlier date.
"This is a case that is of public significance," Assistant U.S. Attorney Scott Hartman told the judge on Thursday. He said prosecutors are afraid the defense will seek to postpone the trial further if Collins runs for re-election in 2020. "There is no reason it should take more than a year and a half."
Jonathan New, Collins's lawyer, said he doesn't want to delay the trial too long, but that there could be substantial additional evidence produced. Prosecutors "rushed to bring this case before the current election," New said.
The 68-year-old congressman was the first House Republican to endorse Donald Trump for president. He's accused of tipping his son, Cameron, to negative results in a clinical trial for a multiple-sclerosis drug being developed by Innate Immunotherapeutics Ltd.
Collins, one of the company's largest shareholders, served on the board and had access to information that wasn't public. Prosecutors say Cameron passed the news to his girlfriend, her father, Stephen Zarsky, and a friend, allowing them to dump shares and avoid losses of about $768,000.
Cameron Collins and Zarsky were also charged. All three deny wrongdoing.
Collins was a heavy favorite for re-election in a heavily Republican district in western New York, which includes the Buffalo suburbs, before he was charged. He initially suspended his campaign, then changed his mind and opted to stay in the race. The Crystal Ball political website has moved the contest from "Likely R" to "Leans R," as has FiveThirtyEight. He's being challenged by Democrat Nate McMurray, town supervisor in Grand Island.
The case is U.S. v. Collins, 18-cr-567, U.S. District Court, Southern District of New York (Manhattan).