markets
Junk-Bond Buyers Head for Hills, Pulling $4.9 Billion From Funds
By and
Junk-Bond Buyers Head for Hills, Pulling $4.9 Billion From Funds
By and
Outflow is the fourth biggest on record, according to Lipper

Investment-grade investors pulled $360 million this week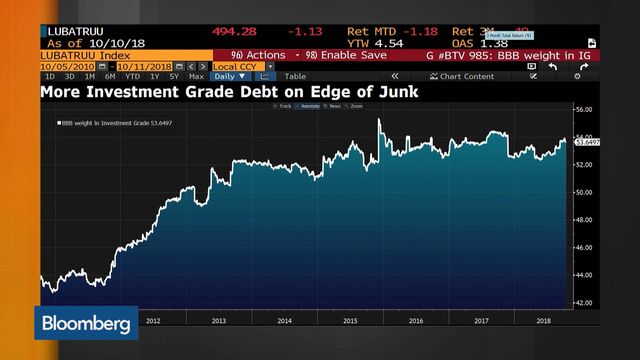 Investors pulled $4.9 billion from U.S. funds that buy speculative-grade debt during the past week amid a global sell-off in stocks, rising interest rates and tensions over trade.
The outflow for the week ended Wednesday was the biggest since February, according to Lipper and is the fourth biggest on record.
Investors have grown increasingly concerned over the potential impacts of a trade war. Strong labor markets and economic growth have made them wary of faster-than-expected rate hikes by the Federal Reserve, worsening the pain for speculative-grade borrowers.
While the high-yield market has held onto gains this year -- the only fixed-income asset class to do so -- this week's drop-off in flows and the broader market's weak tone may be a signal that the tide could be turning.
In the investment-grade market, investors pulled a more modest $360 million, only the fourth weekly outflow this year, Lipper data show. High-grade bond yields pushed past seven-year highs on Thursday, following the move higher in Treasuries.
U.S. leveraged-loan funds saw at 14th straight week of inflows with $479 million in new money for the week ending Oct. 10, according to Lipper.
— With assistance by Rizal Tupaz, and Gowri Gurumurthy