politics
Goldman's Powell No Longer Being Considered for Trump UN Post
By , , and
Goldman's Powell No Longer Being Considered for Trump UN Post
By , , and
President had called Powell twice to discuss ambassadorship

Powell told some colleagues she didn't want to leave Goldman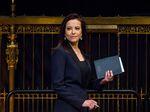 Goldman Sachs Group Inc. partner Dina Powell is no longer under consideration to rejoin the Trump administration as U.S. ambassador to the United Nations, a White House official said.
Powell informed senior leaders at the bank on Thursday that she plans to stay, according to another person with knowledge of those talks. The people described the discussions on condition of anonymity.
President Donald Trump has spoken by phone with Powell about the job multiple times, first on Sunday -- before current United Nations Ambassador Nikki Haley announced her resignation -- and again on Wednesday and Thursday, the people said. He made it clear that he's interested in the idea of appointing Powell to the position, they said, though he has also talked to other candidates.
"Dina is certainly a person I would consider and she's under consideration," Trump said on Tuesday. He told reporters that he's considering five people for the job including Powell, and that he expected to make a decision within three weeks.
At the Vanity Fair New Establishment Summit this week, moderator Katie Couric asked Goldman Chief Executive Officer David Solomon if Powell would be a good choice to replace Haley.
"I think Dina Powell is a great choice to be a partner at Goldman Sachs," Solomon answered. Solomon said he would like her to stay at the company, where she's a member of its 32-person management committee.
Haley is stepping down by the end of the year. She announced she was leaving on Tuesday, surprising many people in the White House including Chief of Staff John Kelly and Vice President Mike Pence.
The timing of her decision angered some Trump supporters. Steve Bannon, the president's former chief strategist, said in an interview with Bloomberg News Editor-in-Chief John Micklethwait that Haley's resignation distracted from Supreme Court Justice Brett Kavanaugh's first week on the job and news about the unemployment rate again falling.
"The timing was exquisite from a bad point of view," Bannon said.
Powell, 45, is a former deputy national security adviser to the president. She was previously a Goldman Sachs partner and the firm's global head of impact investing. Before that, she worked in the George W. Bush administration.
Other candidates for the UN job include the U.S. ambassador to Germany, Ric Grenell, and the U.S. ambassador to Canada, Kelly Craft, according to people familiar with the matter. Trump told reporters on Monday he'd prefer to keep Grenell in his current post.
Craft was at the White House on Thursday. She stood in the back of the Roosevelt Room while Trump signed a bill updating music copyright law, an event attended by Kid Rock, the Beach Boys' Mike Love and other musicians.