politics
Saudi Critic's Disappearance Deepens Major Middle East Rifts
By and
Saudi Critic's Disappearance Deepens Major Middle East Rifts
By and
Jamal Khashoggi feared abducted or killed in Istanbul

Saudi-Turkish ties frayed over Qatar spat, political Islam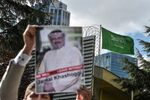 Allegations that Saudi agents flew into Turkey and murdered one of the kingdom's leading critics would have sent shock waves through bilateral relations at any point.
But with the two countries already on opposite sides of some of the Middle East's defining rifts, the accusations -- voiced in off-record briefings by Turkish officials and vehemently denied by Saudi rulers -- are potentially even more explosive. Each chilling leak about the possible fate of journalist Jamal Khashoggi, and the resultant international condemnation, makes a behind-the-scenes compromise that much harder.

Khashoggi, who's been living in self-imposed exile for the past year, vanished on Oct. 2 after he entered the Saudi consulate in Istanbul to obtain a document. The Washington Post, citing unnamed U.S. officials, reported on Wednesday that Saudi Crown Prince Mohammed bin Salman had ordered the abduction of Khashoggi in order to get him back to the kingdom. The Saudi government has said it had nothing to do with his disappearance.
Turkish President Recep Tayyip Erdogan said he can't remain silent over Khashoggi's fate, adding to growing differences between the countries. Those disagreements run deep and extend far: from Turkey's support for a leading Islamist group that Saudi Arabia has designated as terrorists, to relations with Shiite power Iran and the Saudi-led boycott of Qatar. Here's an overview.
Qatar Standoff
Saudi Arabia and three allies broke ties with Qatar in June 2017 after accusing the gas-rich nation of financing terrorism and intervening in the affairs of other Arab states, accusations it denies. Turkey responded to Saudi demands that it withdraw Turkish forces from Qatar by instead building up its military presence there. It also sent food, milk and other goods to help Qatar through the boycott.
The defiance angered Prince Mohammed, who labeled Turkey part of a "triangle of evil," lumping it in with Shiite power Iran and Islamic extremist groups. He also accused Turkey of trying to revive a caliphate, a historical reference to when the Ottoman Empire ruled much of the Middle East.
In August, Qatar promised to invest $15 billion in Turkey, potentially helping it avoid a financial crisis after the lira plummeted in value. Not long after, the Qatari emir gave Erdogan a luxury jet worth about half a billion dollars.
Muslim Brotherhood
Turkey is sympathetic to the Muslim Brotherhood, an Islamist organization that several Gulf Arab states, including Saudi Arabia, have banned and designated as a terrorist group. While the Brotherhood renounced violence decades ago, some of its offshoots haven't. Saudi Arabia's absolute monarchy stepped up its opposition to the Brotherhood as it emerged more powerful from the 2011 Arab Spring revolts that toppled autocratic regimes.
The Islamic movement won elections in Egypt and held power for a year before it was ousted in mid-2013. As military leader Abdel-Fattah El-Sisi took off his uniform and became president, Saudi Arabia and other Gulf states provided billions of dollars in assistance. Under El-Sisi, Egyptian forces killed hundreds of Brotherhood supporters and detained thousands more.
Saudi King Sees Egypt Too Big to Fail Under Friendly General

In contrast, Turkey welcomed Muslim Brotherhood members fleeing persecution in the Middle East. Erdogan, as an elected Islamist leader, claims an affinity with the Brotherhood. His ruling party sees itself as a product of the same demographic forces that brought the organization to power in Egypt.
'Moderate' Islam
Erdogan has pushed back against Saudi Arabia's efforts to rebrand the form of Islam practiced in the kingdom. After Prince Mohammed said that Saudi Arabia was returning to a moderate version of the faith, Erdogan shot back.
During a speech in Ankara, he said Islam "cannot be either 'moderate' or 'not moderate.' It can only be one thing." Erdogan criticized the crown prince, saying "perhaps the person voicing this concept thinks it belongs to him. No, it does not belong to you."
Iran

Saudi Arabia and its closest Gulf allies have been enthusiastic backers of President Donald Trump's offensive to isolate and weaken Iran, their chief regional foe. That's included waging war on Yemen's Houthi rebels, who the Saudis say are backed by Iran, in a military intervention that has deepened one of the world's worst humanitarian catastrophes.
Prince Mohammed warned in a March interview with the Wall Street Journal that war with Iran is likely in the next 10-15 years if pressure isn't put on its ruling clerics. In another interview with The Atlantic, the prince said that Iran's Supreme Leader Ayatollah Ali Khamenei was worse than Hitler, accusing him of trying to "conquer the world."
In contrast, Turkey has maintained trade ties with Iran and increasingly cooperated with Tehran in the war in Syria as its own security interests drifted away from those of traditional allies, including the U.S.