markets
Sell Orders in Stocks Surge to Highest Level Since 'Flash Crash'
By and
Sell Orders in Stocks Surge to Highest Level Since 'Flash Crash'
By and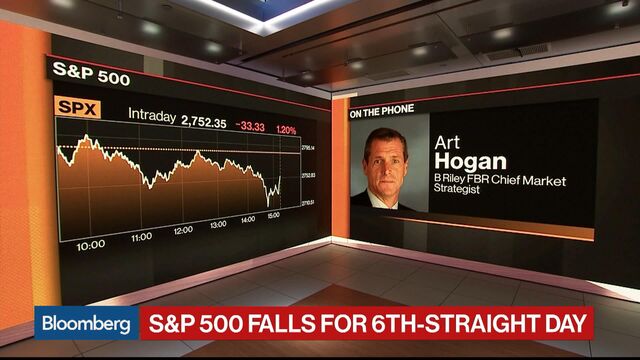 Investors rushed to unload U.S. stocks in afternoon trading, with sell orders briefly hitting the highest since a liquidity-driven selloff in May 2010.
Almost 1,800 stocks traded on a downtick versus those trading on an uptick on the New York Stock Exchange around 2:45 p.m. in New York. The spike in selling coincided with a slump in the S&P 500 Index.

The S&P 500 is mired in this year's third major retreat as higher bond yields, trade tensions with China and concern over third-quarter earnings all converge to threaten the bull market.
The downtick spike "suggests either outright panic on the part of investors or (more likely) a series of automated program trades," said Jason Goepfert, president of Sundial Capital Research Inc.
S&P 500 e-mini futures fell to as low as 2,712 before recovering. The most trading volume over the last 200 days was at the level of 2,730, according to Jonathan Krinsky, Bay Crest Partners technical analyst.
"We never know if that was 'the' low, but certainly with that type of TICK into support, it can signal 'a' low," he wrote in a note.