Photographer: Putu Sayoga/Bloomberg
economics
Trump, Gloomy Outlook Hit Finance Chiefs in Bali: World Economy This Week
By
Trump, Gloomy Outlook Hit Finance Chiefs in Bali: World Economy This Week
By

Central bankers from around the world jumped to the U.S. Federal Reserve's defense in Bali after President Donald Trump accused the central bank of going "loco." But some economists says what's at risk of getting lost in the focus on the shift by central banks to quantitative tightening is how accommodative they still are.
Here's our weekly wrap of what's going on in the world economy.
Central Bank Pushes
Fed chief Jerome Powell came under pressure from all sides this week as he and his fellow finance chiefs gathered for International Monetary Fund and World Bank meetings in Bali. While he faced warnings to be mindful of the effects of his policies on emerging economies from his Indonesian hosts, the biggest attack came from home, where Trump said that plunging stock markets weren't because of his trade conflict with China, but "wild" Fed policy. That at least prompted support from Powell's peers, as they sought to defend central bank independence. Economists say the Fed might stay more accommodative than investors fear and by some measures it still looks loose.
Other factors are also occupying the minds of officials – like how, and how fast, to normalize policy. In China, the central bank cut the amount of cash lenders must hold as reserves for the fourth time this year, while Singapore's central bank – encouraged by steady economic growth – tightened monetary policy. 

Read More:
Trade Chronicles
As the U.S. and China sought support for their respective cases in Bali, the IMF blamed escalating trade tensions and stresses in emerging markets as it said the world economy is plateauing. It cut its growth forecast for the first time in more than two years, in projections don't even take into account Trump's threat to expand the tariffs to effectively all of the more than $500 billion in goods the U.S. bought from China last year. China insists it won't be forced down by levies, but the European Union says Trump's aggressive strategy on trade has proven successful.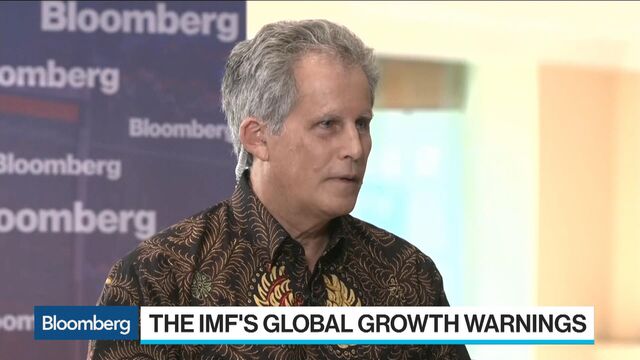 Read More:
World Outlook
While the IMF cut its projections, accounts of the European Central Bank's last meeting showed policy makers held back from raising the alarm about risks to the euro-area outlook even after a debate that noted mounting global threats. Italy's finance minister was less optimistic, warning of a deceleration for advanced economies. In the U.S., consumer sentiment cooled, especially among women. France's Treasury raised questions about economic stability for recipient countries of China's Belt and Road initiative and access for European businesses. U.K. lawmakers were also asking questions, about the Bank of England's assessment of a possible no-deal Brexit, even as house prices in London took a beating. For the new Nobel Prize in Economics winners, climate and technology are the real issues for the global economy.

Read More:
Weekend Reading
Chart of the Week
Want a $21,000 Pay Raise? HSBC Recommends You Move Overseas

— With assistance by Michelle Jamrisko