politics
Trump's Pressure on North Korea Is Fading
By and
Trump's Pressure on North Korea Is Fading
By and
South Korea suggests, then walks back review of penalities

U.S. increasingly alone in demands to keep economic squeeze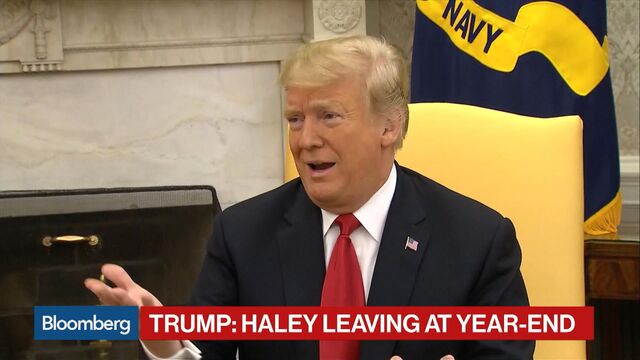 The U.S. may want to focus on disarming North Korea. Lately, though, there's been more talk about relieving sanctions on Kim Jong Un's regime.
The latest sign came Wednesday after China said it had agreed with North Korea and Russia "it was time to start considering the adjustment" of United Nations sanctions. The same day, President Donald Trump tersely dismissed a suggestion by U.S. ally South Korea that it was reviewing the repeal of one unilateral package of economic restrictions against its neighbor.
"Well, they won't do it without our approval," Trump told White House reporters Wednesday. "They do nothing without our approval."
The exchange highlighted a growing gap between Trump's goals and those of South Korean President Moon Jae-in, especially after he sealed a series of reconciliation deals with his North Korean counterpart last month. As Moon and Kim push their governments closer, Trump has found himself increasingly alone in demands that North Korea must take more steps toward "denuclearization" before getting economic relief.
U.S. negotiators led by Secretary of State Michael Pompeo appear to have acknowledged the difficulty of trying to rapidly advance the vague agreement between Trump and Kim at their June summit to "work toward complete denuclearization of the Korean Peninsula." Pompeo returned from meetings with Kim this week, claiming "significant progress," but also added, "there are many steps along the way and we took one of them today."
'Growing Frustration'
There were other signs of daylight between the U.S. and its key security partners in Seoul. South Korean Foreign Minister Kang Kyung-wha confirmed to lawmakers that Pompeo called to express "discontent" with landmark military pact signed by Moon and Kim last month in Pyongyang.
Jenny Town, a research analyst at the Washington-based Stimson Center, said the exchanges were indicative "of a growing frustration within the U.S. government of a general lack of communication between U.S. and South Korea about sensitive moves."
"It's not so much that the U.S. feels it needs to 'approve' of South Korean decisions, but since U.S.-ROK interests are so intimately intertwined, Washington does expect communication on matters that involve mutual interests before they unfold," Town said.
The alliance had already showed signs of strain as Trump questioned the cost of maintaining some 28,000 troops on the peninsula and installing anti-missile shield there, complaints he repeated at an Iowa election rally Tuesday. In June, he appeared to surprise South Korean officials with his announcement after meeting with Kim that the U.S. would suspending "war games" with South Korea.
"We're able to speak about a lot of things together and that's because we really share the same objective here," U.S. State Department Deputy Spokesman Robert Palladino told reporters Wednesday in response to questions about disagreements between the allies. "We're really working closely with the Republic of Korea."
Mixed Messages
Moon, who reaffirmed his commitment to "complete denuclearization and permanent peace" during a fleet review Thursday, sought to play down the significance of Trump's remark. "We are going to accept that as meaning all issues are going to proceed with the agreement and consultation between South Korea and the U.S.," his spokesman, Kim Eui-keum, said.
Meanwhile, South Korea issued statements saying Kang didn't mean to imply any decision when she told parliament that sweeping trade and travel sanctions passed after North Korea sank one of its warships in 2010 were being reviewed. Unification Minister Cho Myoung-gyon said no detailed analysis of the country's sanctions had been made.
Mixed messages between the U.S. and South Korea risk giving Kim gaps to exploit in negotiations. So, far the North Korean leader has insisted on U.S. gestures such as sanctions relief or a declaration formally ending the 1950-53 Korean War in exchange for his decisions to halt weapons testing and dismantle some nuclear facilities.
"These sorts of comments are playing directly into the hands of Kim Jong Un," said Brendan Taylor, an associate professor of strategic studies at the Australian National University in Canberra. "There is nothing Kim Jong Un would love more than to be able to split the United States off from South Korea. That has been a feature of North Korean diplomacy throughout its history."
Unilateral Sanctions
The sanctions discussion in Seoul followed a Tuesday meeting between diplomats from China, North Korea and Russia during which they called on the UN Security Council to consider relaxed economic restrictions. "The three parties also oppose unilateral sanctions," China's foreign ministry said, in comments later echoed by North Korea.
The South Korean sanctions on North Korea have been superseded by those imposed by the UN since 2016 in response to Kim's ballistic missiles and nuclear bomb tests. Seoul's measures restrict visits, business activities, trade and aid to North Korea from South Korea and prohibit North Korean ships from sailing in South Korean waters.
Oh Joon, a former South Korean ambassador to the UN, said that repealing them would provide a gesture to allow Moon to continue acting as "a bridge" between Trump and Kim. "We have to give something to North Korea to fulfill that role," Oh said.
— With assistance by Toluse Olorunnipa, and Dandan Li
(
Updates with Moon comment under Mixed Messages subheadline.
)