politics
Trump Says U.S. to Issue 'Report' on Missing Saudi Journalist
By and
Trump Says U.S. to Issue 'Report' on Missing Saudi Journalist
By and
President says arms sales to kingdom should continue

Jamal Khashoggi disappeared after entering Saudi consulate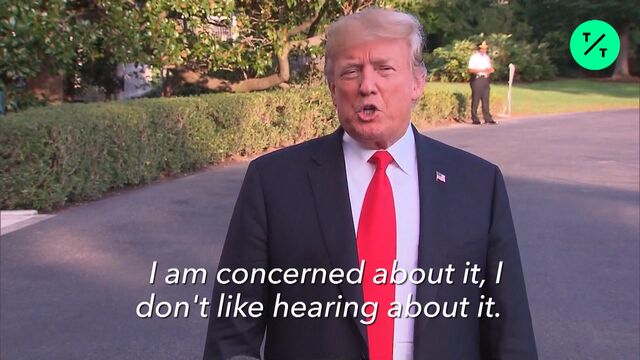 President Donald Trump said the U.S. would soon issue a report on the fate of a Saudi Arabian journalist who disappeared in Turkey last week, but that he doesn't favor halting arms sales to the kingdom over the issue.
"We'll have a report out soon" on the disappearance of the journalist, Jamal Khashoggi, Trump told reporters at the White House on Thursday. Khashoggi, a critic of the Saudi regime, hasn't been seen since entering the Saudi Arabia consulate in Istanbul more than a week ago to retrieve a document related to his upcoming wedding.
A bipartisan group of U.S. senators on Wednesday said they are forcing an investigation into Khashoggi, triggering a human rights probe that could result in sanctions against Saudi officials and entities.
Senator Bob Corker, a Tennessee Republican, said that he's told Saudi officials that Khashoggi's disappearance risks ruining the kingdom's political support among lawmakers. Senator Rand Paul, a Kentucky Republican, and other lawmakers have suggested Congress may block future arms sales to Riyadh.
Trump said Saudi Arabia would instead buy weapons from Russia and China.
"There are other things we could do," he said. "I would not be in favor of stopping a country from spending $110 billion, which is an all time record."
Earlier on Thursday, Trump said on Fox News that the U.S. is "probably getting closer than you might think" to learning what happened to Khashoggi. Turkish officials have said he was killed inside the Saudi consulate. The New York Times and the Washington Post have reported that two private planes carrying Saudi agents arrived in Istanbul on the day of Khashoggi's visit to the consulate and left the same day.
"It would be a very sad thing and we will probably know in the very short future," Trump said during an interview on Fox & Friends, when asked about reports that Saudi leaders may have been involved in Khashoggi's disappearance.
"I have to find out what happened," Trump added.

Khashoggi was last seen Oct. 2 entering the Saudi consulate in Istanbul. The Washington Post reported that U.S. intelligence services intercepted communications of Saudi officials discussing a plan to lure him back to the kingdom. He's now feared to be detained or dead.
"He went in, and it doesn't look like he came out," Trump said in the Fox News interview. "It doesn't look like he's around."