politics
U.S. Hopeful Turkey Will Release Pastor But Has No Deal, Sources Say
By , , and
U.S. Hopeful Turkey Will Release Pastor But Has No Deal, Sources Say
By , , and
Brunson's two-year detention has strained U.S.-Turkey ties

Trump in August doubled metal tariffs on Turkey in response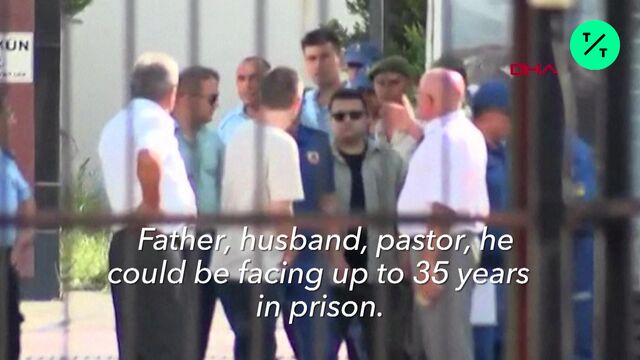 The Trump administration is hopeful that Turkey will set free an imprisoned American pastor when he appears in court on Friday but hasn't secured a deal for his release, according to people familiar with the situation.
Two officials, who asked not to be identified discussing the case of Andrew Brunson, described what they called a growing sense of optimism among some senior staff that the North Carolina pastor will be released. But they cautioned it was ultimately up to Turkey's President Recep Tayyip Erdogan whether to let him go.
Earlier in the day, NBC News reported that the White House expects Brunson to be released and returned to the U.S. in the coming days. Asked to comment on Brunson's case on Thursday, State Department spokesman Heather Nauert said she wasn't aware of any such agreement.
Trump himself doesn't yet think he has a deal in hand, according to a third person familiar with internal deliberations on the case.
Brunson, 50, was arrested on espionage charges in 2016 as part of a crackdown following a failed coup against Erdogan. He was transferred to house arrest in July because of poor health, but U.S. officials had expected him to be freed at that time.
Secretary of State Michael Pompeo expressed optimism on Wednesday that Brunson would be released soon.
"President Trump has had a focus on it, the administration's had a focus on it, and we're very hopeful that we'll see a good outcome before too long," Pompeo said.
Brunson's continued detention -- and Erdogan's refusal to release him despite intense pressure from the White House -- spurred a sharp decline in U.S.-Turkey relations in recent months. Furious over Turkey's refusal to let him go, President Donald Trump in August doubled metal tariffs on Turkey and slapped sanctions on two senior Turkish officials involved in Brunson's detention.
How Pastor's Plight Compounded Turkey's Economic Woes: QuickTak
American officials hope Brunson's release can improve relations between the two NATO allies that have also soured over Erdogan's drift toward authoritarianism and closer ties with Russia.
Those ties have been further complicated by the case of Jamal Khashoggi, the Saudi journalist who went missing and is now feared dead after entering the Saudi consulate in Istanbul.
Turkey believes Khashoggi may have been killed while inside the consulate, an allegation that Saudi Arabia denies. One of the people said Turkey has asked for U.S. help in getting to the bottom of his disappearance.