markets
Europe's Stock Rebound Is Quickly Dissipating as Banks Fall
By , , and
Europe's Stock Rebound Is Quickly Dissipating as Banks Fall
By , , and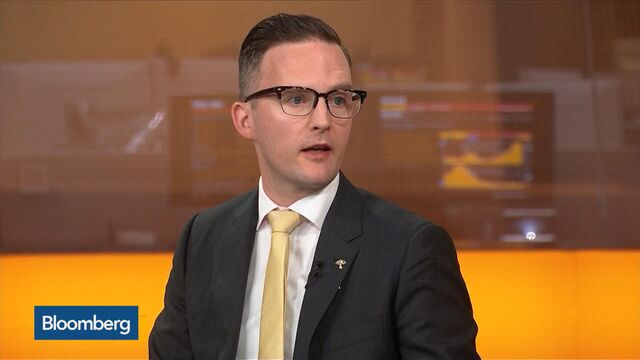 A rebound in European equities quickly faded as bank and oil stocks pared gains.
Europe's heavily weighted banking sector erased earlier gains to fall as their American peers showed a mixed reaction to earnings from JPMorgan Chase & Co. and Wells Fargo & Co. Oil stocks also pared gains, following crude prices. Defensive industries from telecoms to utilities -- which staged a relative comeback during this week's selloff -- saw their losses deepen in the afternoon.
"The most recent selloff has been U.S.-driven and technical," said Legal & General Investment Management Ltd. Head of Multi Asset Funds John Roe, adding that there has been no clear fundamental catalyst, although higher interest rates may have been a factor. "It's hard to gauge if the U.S. market reaction is likely over. The U.S. market price action, not Europe or Asia, will set the tone for whether this is likely over."

Other strategists seemed unconvinced by the market rebound. "Sentiment is weak and on balance global fundamentals are weakening month by month," said Peter Garnry, head of Equity strategy for Saxo Bank. "Our dynamic asset allocation models are reducing equity exposure here. It's not time to be greedy."
The Stoxx Europe 600 Index was up 0.1 percent as of 4:41 p.m. CET, after gaining as much as 1 percent earlier. The benchmark has lost about 4 percent this week, set for the biggest five-day drop since February.
European stocks slumped to the lowest level since December 2016 on Thursday as rising interest rates led investors to rotate out of their equity holdings and as concerns about the U.S.-China trade spat remained in focus. Although U.S. economic growth remains robust, traders are wondering when the impact from the tax reform will start dissipating, which would weigh on corporate earnings and stocks.
"European equities are under-owned and look oversold," said Emmanuel Cau, head of European strategy at Barclays Bank Plc. "At the same time, Europe could be a relative beneficiary if the rotation into value were to continue as the U.S. is biased towards growth. However, Europe is unlikely to outperform if U.S. equities keep falling," the strategist wrote in a note.