markets
Traders Expect a Volatile Pound Before Britain's Exit Talks With the EU
By , , and
Traders Expect a Volatile Pound Before Britain's Exit Talks With the EU
By , , and
Sterling at $1.10 or $1.60 not 'far fetched:' Mizuho's Jones

Investors stay bearish the U.K. currency as skepticism remains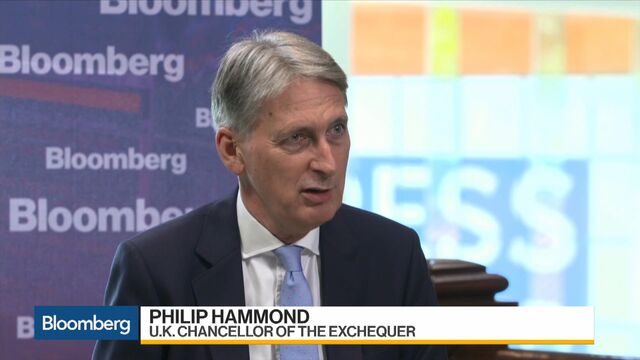 Options traders are bracing for bigger swings in the pound as the U.K.'s exit talks from the European Union approach the finishing line.
Sterling has gained this month amid speculation the two sides will announce a Brexit divorce settlement next week as leaders edge toward resolving the thorniest issues. But facing a period of intense negotiations and their eventual success or failure, currency traders are buying protection against big swings in either direction from its current level of around $1.32.

"The outcome on Brexit is still somewhat binary, deal or no deal, so there is strong potential for cable to go up a lot or down a lot," said Neil Jones, head of hedge fund sales at Mizuho Bank Ltd. "Both $1.10 and $1.60 are not so far-fetched, frankly."
U.K. Prime Minister Theresa May is set to meet EU counterparts on Wednesday. A deal could be agreed then, or if enough progress has been made, a special summit may be set for November. Alternatively, it could all fall apart giving leaders until a planned December gathering to decide what to do.
The risks to a bullish sterling view include leaders not agreeing on the Brexit divorce terms next week, as well as U.K. lawmakers not ratifying such a settlement in Parliament. The Democratic Unionist Party, which May relies on to pass legislation, has reportedly refused to back her fiscal plans if the solution to the Irish border conundrum breaches their red lines, making the budget at the end of this month a potential flashpoint.
Options which take into account outsized moves in the pound in either direction reflect this risk. So-called butterfly options, a measure of expectations for larger-than-average moves in the currency, which expire in a month's time are close to their highest level since December.
Both options and the level of sterling suggest investors aren't yet ready to turn bullish. While spot traders have trimmed short holdings in the past two months, the currency is more than 8 percent lower than its 2018 peak in April, at a time when risk reversals -- a gauge of market sentiment and positioning -- show bearish sentiment still prevails.
"If you want to play for the upside, then from my perspective, be my guest," said John Taylor, a money manager at AllianceBernstein Ltd., who is short the pound versus both the dollar and the euro. "Most people have convinced themselves that Brexit is going to go fairly smoothly. We think there's more opportunity to play for the pound weakening from here."