Real Estate
Trump Brand to Be Erased From Another Namesake New York Building
By and
Trump Brand to Be Erased From Another Namesake New York Building
By and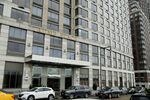 Residents of another building are dumping the Trump name.
Trump Place, a condo tower on Manhattan's Upper West Side, will remove President Donald Trump's surname from its facade, according to a New York Times report.
The board of the condo at 200 Riverside Blvd. voted to sever their affiliation with the Trump brand, becoming at least the seventh building worldwide since the 2016 election to do so. Three neighboring Manhattan rental complexes have already removed the Trump name, as did hotels in Canada and Panama.
The Trump Organization tried legal action to thwart the name removal from 200 Riverside, saying that would breach the condo board's licensing agreement with the developer. But New York Justice Eileen Bransten ruled in May that the condo board may proceed with the name change if it could muster a two-thirds majority vote of members.
Amanda Miller, a spokeswoman for the Trump Organization, didn't immediately respond to a request for comment. Neither did two lawyers who represented the building's condo board in its litigation against the Trump Organization, Robert Freilich and Harry Lipman of Rottenberg Lipman Rich PC.