pursuits
The Latest Real-Estate Business Is Storing Rich People's Cars
By and
The Latest Real-Estate Business Is Storing Rich People's Cars
By and
L.A. car warehouse designed to withstand 12-point earthquake

'I spent many years looking to be a customer of somebody'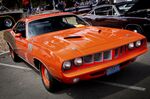 It's easy enough to build a basement cellar for your collection of Lafites and Latours or clear some wall space for your Richters and Basquiats. But try finding room for a dozen or so vintage Ferraris, Porsches and Plymouth Barracudas.
In this dilemma some entrepreneurs and investors are seeing opportunity. Car warehouses that can store a hundred or more pricey vehicles are beginning to pop up across the U.S., according to car collectors and wealth managers who are witnessing the trend.
"There is demand for it," says car collector Henry Robertelli, a partner with the hedge fund Axius Holdings, who is building out a 7,000 square-foot auto garage in a suburban Atlanta warehouse space that's nearly five times as large, if he wants to expand.
Indeed, many warehouses are being built by car collectors themselves, such Los Angeles media entrepreneur Matt Farah, who said he spent "many years looking to be a customer of somebody." He's in the process of constructing a 13,800 square-foot garage close to the beach in west Los Angeles that will hold 140 cars. He has a waiting list of 85 people already lined up and ready to pay between $850-$1,500 per month per parking space when the facility opens next summer, he said.
'A Lot of Money'
It's been a four-year process, said Farah, who hosts a weekly podcast called "The Smoking Tire" and whose YouTube channel of the same name counts more than 850,000 subscribers. It took him two years to find the right property and and another two years to design the $10-million project to stringent fire and safety standards; the building should be able to withstand a 12-point earthquake -- "literally an apocalypse," he said.
If the warehouse is as successful as he hopes, he wants to expand to other markets that share similar residential characteristics with the Venice beach area of Los Angeles: "My business model depends on putting these things in places with a lot of money and no parking."
Car collecting, of course, is nothing new. Think Jay Leno and his 100-plus vehicle assemblage or Jerry Seinfeld with his dozens of Porsches. Car condos also have been around a while, largely serving select customers who might deck out their garage spaces with bars, full kitchens and sometimes even a movie theater.
Read More: Boomer Auto Nut Parks Ferrari Next to Sofa in $600,000 Man Cave
What's changed is the hobby is starting to attract the kind of broad-based interest the wealthy have long lavished on easier-to-store luxuries like fine wines and abstract art.
"I've been doing this a long time and I've seen it really shift in the last couple of years," said Timothy Sheehan, a senior director with BNY Mellon Wealth Management in Atlanta. "It's gone from people wanting to have the great contemporary art collection or collecting wine to what we're seeing now: rich people are going after cars."
VW Buses
Most collectors prefer to keep their cars somewhere other than their residences, Sheehan said. So far, though, car-storage facilities have yet to become a true warehouse market, said Dan Wagner, a director of research and analysis for CBRE Group Inc.
"The collector market is more of a niche market," Wagner said. "They don't typically demand a 300,000 square-foot warehouse."
Collectors are snapping up everything from vintage Mercedes and Ferraris to 1960s muscle cars like Chevy Chevelles and Plymouth Barracudas to brand new limited edition autos such as the Porsche 911 Turbo S Exclusive. Farah's car collection contains a Porsche 911, a Lamborghini and a Mercedes SL 500, among others. "Rather than play the stock market," he said, "I collect cars."
Also in big demand is the official transportation of the peace-and-love, money-bashing Woodstock generation: the beat-up Volkswagen bus. "You could have bought one of those on the side of the road for $200," Robertelli said. "Now people are restoring them and they are bringing well into the six figures."