politics
As Three Ex-Leaders Clash, Madagascar Vote Is Far From Vanilla
By and
As Three Ex-Leaders Clash, Madagascar Vote Is Far From Vanilla
By and
Elections in Madagascar have been prone to instability

Total of 36 candidates are running for the presidency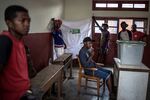 Voters in Madagascar cast their ballots for president in an election in which four former heads of state are vying to return to office.
Polling in Madagascar has been prone to instability since 2002, and long-running disputes between three of the main candidates risk destabilizing the country anew. The Indian Ocean island nation, vaunted by China as a potential bridge between Africa and its Belt & Road Initiative, is the world's biggest producer of vanilla.
Though a total of 36 candidates are running for the presidency, three of them -- former presidents Hery Rajaonarimampianina, Andry Rajoelina and Marc Ravalomanana -- drew the largest crowds at colorful rallies with singers and fireworks. A fourth former leader competing in the race is 82-year-old Didier Ratsiraka, who seized power in a 1975 coup and ruled Madagascar for much of the subsequent three decades.
Long-running tensions between Rajaonarimampianina, Rajoelina and Ravalomanana could trigger a dispute over the outcome, said Jean Claude de l'Estrac, a former secretary-general of the Indian Ocean Commission.
"There are concerns when you have three former presidents competing, and their differences aren't only political, and there's also some personal animosity in what separates them," De l'Estrac said in a phone interview. "If the first-round results aren't clear cut, we have reason to fear that elements of crisis might erupt."

Voting is scheduled to end at 5 p.m. in the capital, Antananarivo, and if none of the candidates garner more than 50 percent of the vote, a runoff between the top two finishers will be held next month.
Cristian Preda, head of a European Union observer mission, said polling had been going smoothly, with only a few minor irregularities reported. Initial results are expected to start being announced later on Wednesday.
Rajaonarimampianina, 60, resigned in September to run for re-election after a term that was marred by protests by lawmakers who tried to remove him on the grounds that he failed to abide by the constitution. He's pledged to accelerate the growth of an economy that expanded 4.2 percent last year.

That's a similar campaign pledge to Rajoelina, a 44-year-old former nightclub DJ who portrays himself as a "builder" on his Twitter account and has vowed to develop the country's infrastructure. During his five years in office that followed a disputed 2009 vote, he struggled to reverse an economic crisis following the suspension of most foreign aid to the government.
Ravalomanana is also pledging growth, as well a plans to strengthen the rule of law. The 68-year-old millionaire businessman triggered a political crisis in 2002 when he declared himself president without waiting for a runoff after a disputed vote. He was re-elected in 2006, but forced to resign by the army in 2009 following clashes between protesters and security forces that left scores of people dead.

Madagascar is one of the poorest countries in the world, with three-quarters of the population living on the equivalent of $1.90 a day, according to the World Bank. While high vanilla prices boosted export earnings last year, a severe drought and several cyclones cut the supply of locally grown rice and triggered a contraction in agriculture.
(
Updates with EU official's comment in seventh paragraph.
)