politics
UN Security Council Divided on How Hard to Press Saudis Over Yemen
By
UN Security Council Divided on How Hard to Press Saudis Over Yemen
By
Trump said the three-year civil war has become a 'horror show'

U.K. is leading efforts to draft new UN resolution on war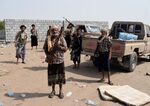 A debate over how hard to pressure Saudi Arabia to take the lead in halting the war in Yemen is dividing Western allies on the UN Security Council as they seek to draft a resolution addressing what the United Nations calls the world's worst humanitarian disaster.
With the toll of the three-year civil war and the threat of a widening famine growing, there is a consensus among the 15 members of the Security Council that they should step up pressure to end the fighting, according to four diplomats familiar with the discussions.
But the Security Council members are divided over how strongly to condemn the role of the Saudi-led coalition versus the Houthi rebels, who are believed to be backed by Iran. The U.K. has taken the lead on drafting a statement, but on Wednesday the Netherlands, Sweden, Peru, and Poland rejected a draft text on the issue because they felt it wasn't strong enough in addressing Saudi Arabia's role in the crisis as well as other Yemeni forces, diplomats said.
As international pressure builds, the five permanent and 10 rotating members of the council are now back in talks aimed at eventually drafting a resolution, according to the diplomats. UN Secretary-General Antonio Guterres warned last week that Yemen is on the precipice of "imminent catastrophe."
Read a QuickTake on how the Yemen War became a humanitarian disaster
In a sign of growing U.S. frustration over the war, U.S. President Donald Trump this month called the conflict a "horror show," singling out the bombing of a school bus that killed children. Defense Secretary Jim Mattis has said the two sides should meet in Sweden this month to solve the conflict.
"What's going on in Yemen generally is a terrible thing, and we're gonna see and we're looking at Yemen very carefully right now," Trump said in an interview with "Axios on HBO" broadcast on Sunday. He added that the America's Saudi allies, "don't know how to use" U.S. bombs being deployed in the battle.
But the U.S. has generally been hesitant to put too much focus on the Saudis. Secretary of State Michael Pompeo suggested last week that the Houthis must take the first step to end the conflict. The only resolution adopted by the Security Council on Yemen, in 2015, called on all parties, "in particular the Houthis," to "immediately and unconditionally end violence."
Still, the war's humanitarian cost as well as the Saudi role in the killing of insider-turned-critic Jamal Khashoggi in Istanbul last month, has cast a harsh eye on the kingdom's missteps.
U.K. Foreign Secretary Jeremy Hunt on Monday said "there appears to be a window" to find a political solution. International aid groups are calling for safe passage for civilians in Yemen, as fighting in the crowded port city of Hodeida intensifies.