politics
UBS Stakes Claim on Manafort's Forfeited Tower Condo
By and
UBS Stakes Claim on Manafort's Forfeited Tower Condo
By and
Former Trump campaign chairman relinquished home in plea deal

Bank's U.S. unit says apartment isn't Manafort's to give up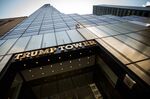 UBS Group AG has staked its claim on Paul Manafort's Trump Tower apartment, which he had agreed to forfeit to the U.S. government.
Manafort, President Donald Trump's former campaign chairman, gave up the 1,500-square-foot condo as part of a deal with prosecutors in September when he admitted to a decade of crimes related to his past work as a consultant for pro-Russia politicians in Ukraine. He also agreed to cooperate with Special Counsel Robert Mueller's probe of Russian interference with the 2016 U.S. presidential election.
Manafort purchased the apartment in 2006 with cash through a shell company, John Hannah LLC, for about $3.7 million, according to property records. In early 2015, he transferred the property from the shell company to himself. He then pledged the home as collateral on a $3 million loan from UBS Bank USA. The variable-rate mortgage required interest-only payments for the first 10 years, before coming due in May 2040.
UBS said in a Nov. 2 court filing that Manafort defaulted on the mortgage. His interest rate this month was 4.125 percent, and Manafort owed almost $110,000 in interest and fees, on top of unspecified attorneys' fees and the $3 million principal, as of Nov. 1.
UBS said it didn't know the property would be subject to forfeiture when it lent Manafort the money, and that its interest in the property is superior to Manafort's. The bank asked a judge to hold a hearing on its request to block the government's seizure of the condo.
Manafort agreed to forfeit several other properties and assets as part of his deal with Mueller.
More on Manafort's properties forfeited here
The matter is being dealt with by U.S. District Judge Amy Berman Jackson in Washington, who presided over Mueller's money-laundering and illegal-lobbying case against the former international political strategist. Manafort pleaded guilty to conspiring against the U.S. in September, after being convicted on bank- and tax-fraud charges at an earlier trial in Alexandria, Virginia.
Jackson set a Nov. 21 deadline for prosecutors to respond to the UBS filing.
The case is U.S. v. Manafort, 17-cr-201, U.S. District Court, District of Columbia (Washington).
(
Corrects to remove blocking reference in first paragraph.
)