markets
China Banks Fall on Concern Loan Targets Are a Step Too Far
Bloomberg News
China Banks Fall on Concern Loan Targets Are a Step Too Far
Bloomberg News
One-third of new corporate lending should go to private firms

'There is desperation among regulators,' a fund manager says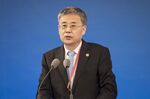 China's biggest banks dragged down the stock market on Friday as investors took a dim view of the government's unprecedented move to tell firms exactly how much they must lend to the country's struggling private sector.

At least a third of new loans should go to non-state companies, Guo Shuqing, chairman of the China Banking and Insurance Regulatory Commission, said late Thursday. Private lending was less than a quarter of banks' outstanding debt in September.
Publicly setting targets reflects policy makers' urgency as they try to stem China's economic slowdown amid an escalating trade war, record corporate defaults and a plunging stock market. While they may be achievable, concerns are mounting among analysts and investors that regulators have put too much pressure on banks to work with the embattled private sector, and as a result more bad loans will ensue.
"There is desperation among regulators, and sometimes muddled polices are difficult to avoid under this kind of pressure," said Jiang Liangqing, a Beijing-based fund manager at Ruisen Capital Management. "Investors are voting with their feet."

This is the first time China has set formal goals for private lending, a step it refrained from even during the financial crisis of 2008. However, the stimulus package it implemented at the time swelled bad debt levels, which now threaten to swallow any new money poured into private companies. Non-state firms defaulted on 67.4 billion yuan ($9.7 billion) of local bonds this year, 4.2 times that of 2017, data compiled by Bloomberg show.
Read: Everything China's Doing to Rescue Companies, and What's Working
Companies are finding it harder to repay debt as demand for goods and services stays sluggish. Moderating factory inflation and steadying consumer price-data released Friday underscored the trend and highlighted room for additional stimulus.
Banks, too, have had a tough few years. Capital strength has weakened across the sector, with dramatic declines at some smaller lenders, and loan-to-deposit ratios swelled to the highest level in at least seven years. Falling stock markets have made it harder to raise fresh capital, prompting lenders to prefer the perceived safety of state-run borrowers.
Now, big banks will need to push a third of new loans to private firms, Guo told the Financial News. The target for small and medium-sized banks is higher at two-thirds. Guo also asked that loans to private companies account for at least 50 percent of total new corporate lending in three years.
In a separate statement Friday, the China Securities Regulatory Commission allowed more frequent refinancing by listed companies, conditionally exempting them from a rule that required an 18-month interval between funding rounds.
Banks paced a 1.4 percent drop in Shanghai's main stock index and lenders also fell in Hong Kong.
"We think the targets are quite achievable," analysts at Huatai Financial Holdings (HK) Ltd. wrote in a note to clients Friday. However, the move is negative for short-term sentiment as "it will likely increase market concerns on banks' 'civic duty' and potential increase in their non-performing loan ratio," they said.
Shares Fall
Industrial & Commercial Bank of China Ltd., the world's biggest lender, dropped 3.3 percent in Shanghai, the biggest decline since Oct. 8
China Construction Bank Corp. retreated 3.6 percent
Bank of China Ltd. fell 2.2 percent
China Merchants Bank Co. lost 4.7 percent
— With assistance by Jun Luo, and April Ma
(
Updates with refinancing rules in ninth paragraph.
)