markets
French Fries May Prompt Row at WTO Saddled With Bigger Problems
By
French Fries May Prompt Row at WTO Saddled With Bigger Problems
By
EU prepares complaint over planned Colombian tariffs

European goal is to protect Belgian, Dutch, German producers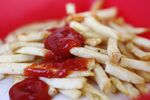 The European Union vowed to take Colombia to the World Trade Organization should the country impose tariffs on frozen French fries from the bloc.
EU Trade Commissioner Cecilia Malmstrom said her department was preparing a WTO complaint in the event the Colombian government makes good on a threat to apply import duties against Belgian, Dutch and German producers of the food.
A Colombian trade authority has recommended levies of less than 10 percent against the EU manufacturers on the grounds they sell frozen fries in Colombia below cost, a practice known as dumping, according to the European Commission. EU exports of such potatoes to Colombia totaled about 25 million euros ($28.4 million) last year, said the commission, the bloc's executive arm.
"Europe will defend European fries," Malmstrom told reporters in Brussels on Friday after the issue was raised at a meeting of trade ministers from the 28-nation EU. "We will, of course, wait for the official announcement by the Colombian authorities. That will arrive in the coming days."
The case would highlight how the Geneva-based WTO continues to handle routine disputes while facing potential existential challenges, which range from the prospect of a broken appellate body to complaints involving import restrictions based on the rarely invoked argument of national security.