markets
Top Court Allows Creation of Pan-Canadian Securities Regulator
By and
Top Court Allows Creation of Pan-Canadian Securities Regulator
By and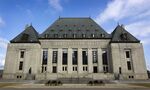 Canada's plans for an opt-in national securities regulator won the backing of the country's top court.
The Supreme Court, in a unanimous ruling Friday in Ottawa, said the regulator can go ahead, as long as provinces such as Quebec aren't compelled to join. The cooperative plan "does not purport to -- and in any event, cannot -- improperly fetter the legislatures' sovereignty," according to the court's written ruling.
Five provinces including Ontario, home to the country's major banks and biggest stock exchange, have backed the effort. Justin Trudeau's government has advanced a plan first put in place by his predecessor Stephen Harper that aims to streamline oversight of financial markets by replacing the existing patchwork of regulations.
"Our government will continue to work with participating provinces and territories to develop a cooperative system that will better protect investors, encourage efficiency and innovation, and make the system better able to address systemic risk in capital markets," Pierre-Olivier Herbert, spokesman for Finance Minister Bill Morneau, said in an e-mailed statement.