Design
Rockefeller Center's Christmas Tree Gets a Star With Three Million Crystals
In collaboration with Swarovski, architect and World Trade Center master planner Daniel Libeskind channeled starlight and geometric forms to design the holiday centerpiece.
Colin Bertram
Rockefeller Center's Christmas Tree Gets a Star With Three Million Crystals
In collaboration with Swarovski, architect and World Trade Center master planner Daniel Libeskind channeled starlight and geometric forms to design the holiday centerpiece.
Colin Bertram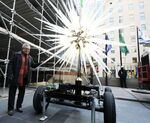 Daniel Libeskind sounds like a child during holiday season.
In a way, he is. The architect and designer is waxing ebullient about his latest creation: the new star he envisaged in collaboration with Swarovski that will sit atop the Rockefeller Center Christmas Tree in Manhattan starting this year. His excitement is unbridled, and his expectations for the glittering centerpiece are palpable.
Weighing about 900 pounds, the new star is nine feet, four inches in diameter and utilizes 3 million double-cone crystals placed on 70 spikes that radiate from the center. Each spike is created using six-millimeter ESG glass with crystals affixed to the inside face and features LED lighting components developed in-house by Swarovski. The core of the star is manufactured using 70 custom-machined aluminum components, plus 140 LED lighting spots.

It will emit 106,400 lumens of white light when the decorated tree is officially switched on during a Nov. 28 ceremony that will be broadcast live on NBC. The tree, a 72-foot-tall, 12-ton Norway spruce from Wallkill, N.Y., will remain on display through Jan. 7, 2019.
The design-build process of the star took two years to complete, with parts manufactured in Austria and Rhode Island. Assembled on-site at Rockefeller Center, Libeskind did not see the finished product until this week, mere days ahead of the unveiling on Wednesday, Nov. 14, when the star moved into position.

"It was very challenging to design something really unprecedented," says Libeskind, who with his partner Nina Libeskind established Studio Daniel Libeskind in Berlin in 1989 after winning the competition to build the Jewish Museum there. In 2003, the studio moved its headquarters to New York after Libeskind was selected as the master planner for the World Trade Center redevelopment.
An Artwork in Light
"It's a sculpture, a three-dimensional panoramic star that is exploding into dynamic light," Libeskind says. "The technology, the form, the complexity, the crystals in the millions—it was really a challenge and a beautiful adventure."
For the design, Libeskind says he was inspired by the abstract concept of starlight and Leonardo da Vinci's studies of geometric forms. He previously collaborated with Swarovski on a city building-inspired chess set for the company's home décor line.

Nadja Swarovski, a member of the executive board of Swarovski AG, calls Libeskind one of the world's top creative talents. "His final creation is a masterpiece of imagination and innovation, and we hope this star will radiate light as a beacon of hope for New York City and beyond for many years to come."
Alongside the technical and physical challenges presented by creating an earthbound sculpture representing the sparkle of starlight, the final product had to be durable enough to withstand being mounted more than 100 feet in the air, then dismantled, stored, and reassembled for years to come. The previous Swarovski star, created in fiberglass and crystal by German artist Michael Hammers, was in service for 14 years.
Libeskind says the sustainability requirement was just one of the many challenges. "There were difficulties at almost every point. How do you integrate the crystals, what crystals should we use that will be really luminous and spread the light, how do you get the light to shine all the way along the trajectory, how do you create the technology of LEDs that shine even within the core, and how do you create that structure between glass and crystal and steel and aluminum that is a major object?"
Take Home a Star

Having completed the star, Libeskind refers to it as "one of my favorite projects to have ever worked on."
Visitors hoping to get an up-close look at the star, or take home a commemorative piece, are in luck. A second, full-sized version will be on display in Rockefeller Plaza adjacent to the Swarovski holiday kiosk, which will sell Libeskind-designed home ornaments inspired by the new design.
A Christmas tree first appeared in Rockefeller Center in 1931, and the first formal tree was erected in 1933. A reported 800,000 people view the tree each day it is on display during the holiday season. Libeskind first saw the tree in 1961, shortly after he immigrated to New York from Poland.
"I was 13 years old when I came to this city on a ship," Libeskind recalls. "One of the first places I went to was Rockefeller Center, because where do newcomers who've just arrived go to?"
"I remember, as a boy, looking up at that amazing space of the city and that amazing tree," he says. "It's very personal."