hyperdrive
F1 Race Team and Defense Giant Link Up to Develop Perfect Cockpit
By
F1 Race Team and Defense Giant Link Up to Develop Perfect Cockpit
By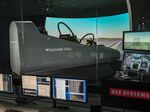 Eurofighter manufacturer BAE Systems Plc will partner with the Williams Formula 1 motor-racing team to help develop cockpits for the next generation of warplanes and cars.
BAE is deepening a pact with the F1 team after Williams Advanced Engineering helped it design a cockpit simulator as part of Britain's future combat aircraft initiative, which aims to produce a new "Tempest" fighter by 2035.
The expanded collaboration will draw on expertise in aerodynamics, virtual reality, lightweight materials and battery technology for solar-powered unmanned air vehicles and autos, according to a joint statement Wednesday.
"The new partnership will devise and deliver projects to create game-changing innovations, ultimately influencing the design, performance and production of both fast jets and fast cars," the U.K. companies said.
Technicians will be able to transfer between the two as BAE seeks to tap technology from beyond aerospace and defense to help deliver the Tempest program, according to Ian Muldowney, its engineering director for air systems.