politics
Freshman House Democrat Blasts Gary Cohn's Private Comments to Class
By
Freshman House Democrat Blasts Gary Cohn's Private Comments to Class
By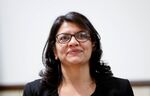 Gary Cohn, President Donald Trump's former top economic adviser and an ex-Goldman Sachs Group Inc. executive, got a cold reception from a newly elected liberal House freshman during an off-the-record event Thursday.
Rashida Tlaib, a Michigan Democrat who is among a group of progressives elected on Nov. 6, blasted Cohn for comments she said he made in a closed-door meeting for new lawmakers from both parties that was hosted by Harvard University's Institute of Politics in Cambridge, Massachusetts.
"Gary Cohen, former CEO Goldman Sachs addressing new members of Congress today: 'You guys are way over your head, you don't know how the game is played,'" Tlaib wrote. "No Gary, YOU don't know what's coming - a revolutionary Congress that puts people over profits."

Tlaib corrected the spelling of Cohn's surname in a follow-up tweet, though not his title at Goldman. He served as the firm's president and chief operating officer. Cohn couldn't be reached for comment, and Tlaib's quotation of his remarks couldn't be independently confirmed.
Tlaib's tweet illustrates two emerging trends among incoming freshman Democrats who will be part of the party's majority in the chamber starting in January: They sometimes get key details wrong but they're willing to challenge the way Congress is run and break norms, in this case by live tweeting off-the-record conversations.
Democrat-elect Alexandria Ocasio-Cortez of New York, another outspoken progressive, also criticized the makeup of the panel. "Right now Freshman members of Congress are at a 'Bipartisan' orientation w/ briefings on issues," she wrote on Twitter. "# of Corporate CEOs we've listened to here: 4 # of Labor leaders: 0"