markets
Mexican Government Under Pressure to Improve Airport Bond Deal
By and
Mexican Government Under Pressure to Improve Airport Bond Deal
By and
Buyback plan is struggling to attract investor support

Investors want government guarantee, compensation for waiving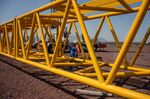 Investors in Mexico City's planned airport project want a lot more from the government before they agree to its buyback offer.
An explicit federal guarantee to honor the debt would go a long way toward resolving concerns, according to chats with more than half a dozen bondholders who asked not to be identified before any formal talks are held. Barring that, the government should agree to buy back a larger portion of the bonds or offer higher compensation for investors who hold onto the notes but agree to waive the terms set forth when the bonds were sold, they said.
President Andres Manuel Lopez Obrador's administration is struggling to attract support for its proposal to end a standoff with investors who loaned $6 billion to construct a new Mexico City airport, a project that the new president wants to scrap. An offer to buy back about $1.8 billion of the bonds for as little as 90 cents on the dollar and provide less than 1 cent in compensation for investors who agree to waive their right to declare an immediate default when construction ends has been rejected by an ad hoc group of bondholders who say they own more than 50 percent of one of the notes, enough to block the deal from going through.
"The main problem with this offer is that it doesn't give you anything in exchange for what you give," said Sebastian Salvay, an analyst at TPCG brokerage in Olivos, Argentina, who covers Latin American corporate bonds. "Ideally the government would reformulate the proposal and add collateral. The value of 90 is fair, but you need a guarantee, collateral from the government."
The project's bonds maturing in 2047 currently trade around 83 cents on the dollar.

The offer would be a lot more appealing if the government was willing to buy back the full amount of bonds outstanding, instead of less than one-third, according to the investors. Some said they may be tempted if a new bond included an explicit government guarantee. In any event, it would require the government to sit down at the negotiating table.