markets
Get Ready for Most Actionable Event in a Long Time: Taking Stock
By
Get Ready for Most Actionable Event in a Long Time: Taking Stock
By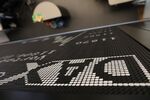 Like we saw with Tuesday's sell-off, it may be extraordinarily silly to speculate as to what actually caused yesterday's massive 74-handle bounce in the S&P 500 that was set off at ~11:30am.
Several people noted that the recovery timed almost exactly with the European close, where the Stoxx 600 finished with its biggest selloff since the 2016 Brexit vote and Germany's DAX entered a bear market.
Why this really matters is beyond me, and the argument that this took a chunk of overseas traders who consistently smacked the bid on U.S. stocks out of the equation sounds pretty bogus. But OK, fine, I'm sure some will be watching the ticks right at 11:30am just in case (the big Tuesday selloff accelerated right at noon, for what it's worth).
Others cited the re-pricing of Fed hike risk following record volumes in eurodollar and fed funds futures contracts. Net-net, many traders are doubting the Fed's ability to raise rates at all next year, with some even questioning a shift this month, something that was very recently seen as a sure thing. The late-day WSJ report that said the Fed is mulling a "new wait-and-see mentality" in regards to 2019 rate hikes seemed to gave that late day push in the tape that saw the Nasdaq finish in the green and the S&P 500 coming close to completing the same feat.
Technicals probably played a factor too, with several indices heavily reversing at or near the November lows (S&P 500 at ~2,630, Nasdaq at 7,000, Dow at 24,300), causing candlestick hammers to be ubiquitous across the chart landscape. While a lot of fundamental diehards disregard the more intricate technical analysis patterns, there is something to be said for the hammers, which can signify capitulation and indicate that a group of sellers have been flushed out of the stock, sector or index for the time being.

Pockets of strength in the momentum arena, where one would have expected a scene of pure carnage, likely helped sentiment once the entire market turned: Every single FANG member turned positive in the 12 o'clock hour, when major indices were still off 1.5%-2.5%, while a slew of cloud software companies and momo treasures like Square and Wayfair finished higher by multiple percentage points. A strong earnings report from semiconductor major Broadcom (shares rose >5% post-market) should only help the tech bulls' case.
Fleeing the Market
That said, the recent turmoil in the markets has clearly taken its toll on investor sentiment, as the latest fund flow trackers show. According to Morgan Stanley, which cites EPFR Global, for the week ending Dec. 5, total long-term fund flows (mutual funds and ETFs) inflected to outflows of ~$6 billion, which is the largest week of outflows since the middle of October.
Overall domestic equities remain volatile, with week-over-week inflection to $2 billion of outflows
Equity mutual funds have seen >$8 billion of outflows a week for the past 3 weeks
Equity ETF inflows were "noticeably softer" with $6 billion of inflows this week, down from $12 billion last week
Global equities saw $2.5 billion in outflows, or the worst week since mid-October
Most Actionable Event in a Long Time
Futures are pulling back, with the e-minis down more than 15 handles, on a relatively quiet morning for news and ahead of the jobs report, which might be the most actionable event for a long time (see the next section to see just how light the next five days look) outside of whatever new trade war twists await.
Fed Chair Powell painted a rosy picture of the economy and the job market at a housing conference last night -- "by many national-level measures, our labor market is very strong" -- so you can take that to bank ahead of the print: Nonfarm payroll expectations are for a 198k print (see our preview), which is well below the October figure of 250k, but still considered healthy.

On Tap for Next Week
It'll be the lightest week for major catalysts for the foreseeable future. The big macro events are the Brexit vote, the ECB rate decision, and a dump of economic data, especially out of China (PPI, CPI, imports/exports all out this weekend while next week brings industrial production, retail sales, and new home prices).
Powell's testimony that was canceled earlier this week because of the Bush funeral has yet to be rescheduled, but the House hearing with Google CEO Sundar Pichai was moved to next Tuesday.
On the company news front, the biggest earnings are >$100 billion market cap names Adobe and Costco in addition to one-time e-commerce darling Stitch Fix. A bevy of analyst and investor days litter the calendar, most notably Lowe's, Starbucks, Under Armour, Delta Air and United Rentals.
Notes From the Sell Side

Jefferies upgrades Tesla (shares up nearly 2% pre-market) to a buy with a price target of $450, or close to $120 above the average target. The analyst has never recommended the shares since initiating with an underperform over a year ago; here's why he's raising his rating: "The shares have done well since Q3 but, with Tesla having demonstrated its profit and self-funding potential, its growth becomes value-accretive just as peers are engaging in a mostly negative EV sum game. Our visit to Fremont highlighted meaningful scope to improve productivity and offset Model 3 ASP erosion."
Morgan Stanley analyst Katy Huberty cuts her price target on Apple to $236 from $253 and lowers FY19 iPhone units after meetings in Asia highlighted lengthening replacement cycle and churn in China. She keeps the stock at an overweight, noting that despite iPhone units down 8% y/y, FY19 revenue and EPS grow, "aided by Services & Wearables, which isn't fully appreciated by investors."
Wolfe Research is downgrading a host of airlines (including JetBlue and American) on the double whammy macro backdrop of recession and oil concerns: "While airlines have made structural changes to better withstand periods of softness, it's impossible to ignore recent cracks in the foundation with such a clear historical track record." The analyst prefers outperform-rated Delta and Southwest Airlines, which gets an upgrade to outperform.
Tick-by-Tick Guide to Today's Actionable Events
7:50am -- SON analyst meeting
8:00am -- IONS investor day
8:00am -- BIG earnings call
8:10am -- SNA CEO Nicholas Pinchuk on Bloomberg TV
8:30am -- Nonfarm Payrolls, Unemployment Rate, Hourly Earnings
9:00am -- ITW, WWD investor meeting
9:00am -- Abrams Capital's David Abrams at Project Punch Card conference
9:30am -- Danske Bank extraordinary general meeting
9:30am -- IPOs to start trading after the open: Moderna (MRNA)
9:45am -- Halcyon Asset former CEO JohN Bader at Project Punch Card conference
10:00am -- Wholesale Inventories, University of Michigan Sentiment
10:15am -- Bombardier CEO Alain Bellemare on Bloomberg TV
10:25am -- Levin Capital's John Levin at Project Punch Card conference
10:30am -- EIA natgas storage
10:30am -- CBRE CEO Bob Sulentic on Bloomberg TV
11:15am -- Horizon Kinetics CEO Murray Stahl at Project Punch Card conference
11:45am -- CAS's Clifford Sosin and Triarii's Miguel Fidalgo at Project Punch Card conference
12:00pm -- Fed's Brainard speaks at Peterson Institute
2:30pm -- Ariel Investment's John Rogers at Project Punch Card conference
4:25pm -- Lountzis Asset's Paul Lountzis and Sandglass's Michelle Kelner at Project Punch Card conference