economics
Kudlow Says He Expects Fed Pause for 'Quite Some Time' After December Hike
By and
Kudlow Says He Expects Fed Pause for 'Quite Some Time' After December Hike
By and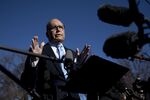 President Donald Trump's top economic adviser said he expects the Federal Reserve to pause its interest-rate increases for "quite some time" after a possible hike later this month.
As Federal Open Market Committee members prepare to meet Dec. 18-19, "I think they're signaling that maybe they'll do something later this month, maybe, but that would be all for quite some time," Larry Kudlow, director of the White House's National Economic Council, said in an interview Friday on Bloomberg Television. "I would just add to that, that my boss Mr. Trump, that's very much in line with his thinking.''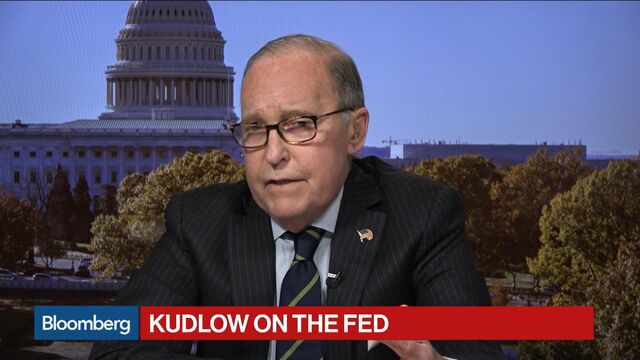 The Fed has lifted borrowing costs eight times since December 2015 in a bid to keep the economy from overheating and is getting nearer to the policy setting that neither boosts nor slows growth. With this so-called neutral rate in sight, Fed officials are cautioning that further moves should continue to be gradual and dependent on incoming economic data.
Read More: Powell Says U.S. Labor Market 'Very Strong' by Many Measures
For months, Trump has complained about the monetary tightening and expressed some regret that he nominated Fed Chairman Jerome Powell, who replaced Janet Yellen in February. In a speech late Thursday, Powell called the job market "very strong" and said the economy is "performing very well overall."
A Labor Department report released earlier on Friday showed nonfarm payrolls increased by 155,000 in November, less than the 198,000 median estimate in a Bloomberg survey of economists. Average hourly earnings rose 0.2 percent from the prior month, compared with forecasts for 0.3 percent, though wages matched projections on an annual basis, up 3.1 percent for a second month.
Kudlow's views on a Fed pause are aligned with the signals in financial markets, where trading in federal funds futures show expectations for 2019 rate increases have fallen to less than one. In the interview, Kudlow said Fed officials seem to be saying the U.S. has strong economic growth that's not inflationary.
While the president respects the central bank's independence, he has been suggesting for a while that "the Fed should not be too tight," Kudlow said. "Looks like the Fed, on its own making its own decisions based on their data read, it looks like they're coming to the same conclusion."