politics
Macron Under Siege as Radicals Hijack the Yellow Vests Movement
By
Macron Under Siege as Radicals Hijack the Yellow Vests Movement
By
Interior minister promises "toughest response" to rioters

Past governments have been toppled after clashes in Paris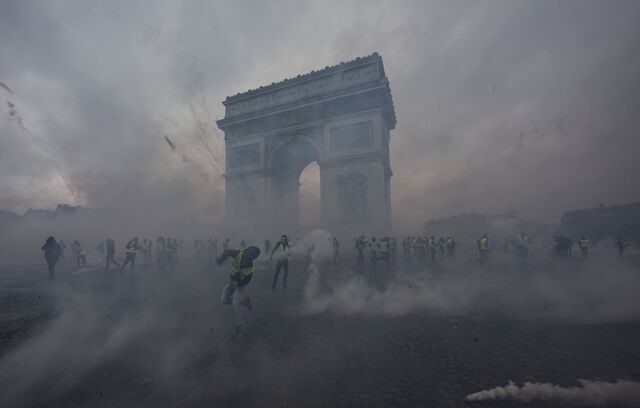 Emmanuel Macron and the French police are bracing for a fourth nationwide protest by the Yellow Vests movement on Saturday, with radicals threatening to hijack the demonstrations again after wreaking havoc last weekend.
"The movement has given birth to a monster," Interior Minister Christophe Castaner said Friday as he detailed security measures at a news conference. "Everything leads us to believe that rioters will try to mobilize again."

The government will deploy over 89,000 officers to maintain order including 8,000 in Paris where demonstrators torched cars, fought with riot police and vandalized the Arc de Triomphe last week. Police in the capital will be backed up by a dozen armored vehicles and Prime Minister Edouard Philippe has said authorities will "be uncompromising" with rioters.
The administration is in a perilous position. It needs to maintain control and protect public property while averting casualties that might inflame the situation further.
Read More: Macron's Defeat in Paris Sounds Alarm for Europe's Liberal Order
During the May 1968 riots, police fired live rounds on three occasions and a total of seven people died, fatally damaging the reputation of President Charles de Gaulle who stepped down a year later. Police killed another protester during riots in 1986, contributing to the ouster of the government in 1988.
"A dead protester would be the worst that could happen for Macron," said Bruno Cautres, a professor at Paris-based Sciences-Po institute. "The government would fall and Macron would be faced with a general election where, at great risk, he would have to ask the French people: do you still trust me ?" 
It's not just the protesters and the police that Macron has to worry about. Several extremists within the movement have called on protesters to march on the president's Elysee palace. One was arrested on Friday afternoon.
"Insurrection is at the gates of France and we don't want to have any deaths this weekend," Yellow Vests member Benjamin Cauchy told Le Figaro on Thursday.
While the revolt began as a protest against higher gas taxes, it became a catchall for complaints about declining spending power and a general dislike of Macron. Now it is attracting extremists.
Read More: Diehard French Protester's Violence Vow -- 'I Want Macron's Scalp'
Castaner promised "serious resources" will be deployed to handle a potentially "ultra violent" situation, without giving any more detail.
After being surprised by the scale of last Saturday's violence, the authorities in Paris are taking few chances this time.
They will close many museums and the Eiffel Tower, they've asked shops on the Champs Elysees avenue to shutter up, and postponed Saturday's soccer match between Paris Saint-Germain and Montpellier. High schools, which often hold Saturday morning classes in France, will also be closed after students joined protests in recent days.
"A massive security operation has been organized," Castaner said. "We will confront rioters and criminals with the toughest of responses."