economics
U.K. Tells Supermarkets to Maximize Stockpiles Before Brexit
By , , and
U.K. Tells Supermarkets to Maximize Stockpiles Before Brexit
By , , and
Asda, Tesco, Sainsbury's, Morrison in talks with suppliers

Government sees up to six months of no-deal Brexit disruption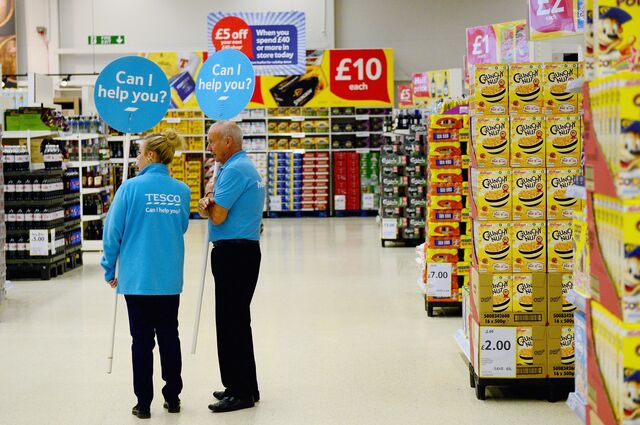 Theresa May's government has told supermarkets to keep as much stock as possible in warehouses around the country in case the U.K. crashes out of the European Union without a Brexit deal, officials said.
The request is being made by ministers because in the worst-case scenario, a no-deal Brexit would cut the capacity of the country's main EU trading route from the French port of Calais to Dover in southeast England to just 13 percent of the current level due to additional border checks. Six government and industry officials with knowledge of the matter spoke to Bloomberg on condition of anonymity because the contingency plans aren't public.
Retail giants including Tesco Plc, J Sainsbury Plc, Walmart Inc.'s Asda and Wm Morrison Supermarkets Plc -- the country's four biggest grocery chains -- are now asking their main suppliers to ramp up their stock over concerns that half their shelves will be empty if there is a hard or no-deal Brexit, according to Joe Clarke, national officer for food, drink and tobacco at the Unite union.
Tesco declined to comment; the other three retailers didn't immediately respond to a request for comment.
Separately, the Department of Health said in a letter Friday it expects up to six months of "significantly reduced access" especially on shorter shipping routes in the event of a no-deal Brexit. It didn't give specifics on what businesses should do to prepare, though it said "six-week stockpiling activities remain a critical part of our contingency plans."
With Parliament looking almost certain to reject May's Brexit agreement with Brussels in a crucial vote on Tuesday, ministers and government departments are stepping up planning for a no-deal exit from the bloc. That's because it's the default path if the premier can't get an agreement approved by lawmakers.
Read More: What 'No-Deal Brexit' Means and How It May Be Averted
But the timing of the Health Department's letter risks angering Brexiteers, who will likely see it as an attempt to exert pressure ahead of the vote.
Health Secretary Matt Hancock told BBC Radio Friday the likely logistical problems were "another reason" to vote for the prime minister's deal.
The government is trying to find new ways to get products into the country, one official said. In the short term, measures include drawing up a list of priority goods, with medicines at the top, the person said, noting that it would essentially be a return of rationing. In the medium term, it is contracting more cargo space and looking at expanding the capacity of ports such as Sheerness.
Shortage
A shortage of temperature-controlled storage space means not all medicines can be stockpiled. Hancock told the BBC his department is buying refrigeration units to enable some drugs to be stored. He also said preparations are being made to fly medicines in and fast-track trucks with medical supplies.
"We are working on ensuring that we have aviation capacity," he said. "If there is a serious disruption at the border, we will have prioritization -- and prioritization will include medicines and medical devices."
Lack of temperature-controlled warehousing also affects supermarket chains. The facilities are expensive to build and manage, costing millions of pounds and taking one to three years to construct. As companies seek more space, supermarkets are also expected to help stockpile their main manufacturers' goods in their warehouses, three officials said.
"The problem for supermarkets throughout this process is the seasonality of fresh produce," said Brian Connell, a supply chain consultant at KPMG. "Some of the stuff they would want to stockpile hasn't even been sown yet, let alone grown or harvested."
Panic Buying
Worries over panic buying and loss of access to the EU's customs union and single market are mounting for grocers, as they predict a 47 percent drop in goods and believe supply chains could dry up within two weeks of a chaotic exit from the bloc, Clarke at Unite said. They are asking their top 20 manufacturers to supply more produce in case this happens, meaning there will be less choice of brands for shoppers.
The issue of how to prioritize goods throws up some conundrums for ministers, including whether to favor bags of perishable lettuce over critical parts for power stations, or auto-components needed to keep factories running and hundreds of thousands of people in work.
Even in the best-case no-deal Brexit scenario, officials foresee six weeks of disruption at the borders. The government is briefing organizations affected by cross-border trade on its latest no-deal planning Friday.
The briefings were organized as part of a timetable of Brexit planning, and not due to concern that no deal is becoming an increasingly likely outcome, one of the officials said.
— With assistance by Robert Hutton, and Jess Shankleman
(
Updates with details of supermarket planning from third paragraph.
)