Politics
The Key to Nancy Pelosi's Legislative Agenda
The House speaker needs to keep her caucus in line while preparing the party for 2020.
By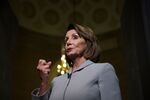 House Speaker Nancy Pelosi may be a polarizing figure on the national stage, but virtually everyone in Washington agrees that she's a master strategist. As the Democratic Party has gone from the majority to the minority and back again, Pelosi has consistently worked behind the scenes to keep her bloc united and its legislative agenda intact.
That political skill will be tested over the next two years. Pelosi must find a way to hold her fractious coalition together while positioning Democrats to recapture the Senate and the White House in 2020. Adding to her challenge, there are now cameras and smartphones in the proverbial backroom broadcasting White House meetings and live-tweeting the political process. To build on Democrats' success in last year's midterm elections, the 78-year-old legislator from San Francisco will have to keep the congressional agenda focused on the issues that got this year's crop elected in the first place.
"It is quite possible that we will win the White House and the Senate just because people have looked at Donald Trump and decided that they want to go in another direction," says Brad Sherman, a fellow California Democrat serving in the House. "It would be better if we had bills lined up that would pass the House—and it would be even better than that if we could actually get something signed into law in the next two years."

The government shutdown will necessarily dominate Pelosi's agenda for the foreseeable future. In a primetime televised address on Jan. 8, President Trump aimed to stir up support for $5.7 billion in funding for a wall along the southern border, painting a dark picture of the risks associated with illegal immigration. Pelosi and Senate Minority Leader Chuck Schumer of New York issued a rebuttal that sought to focus attention on the effects of the closures now stretching into a third week. "We all agree that we need to secure our borders," Pelosi said, but Trump shouldn't be "holding the American people hostage." 
The Democratic-led House passed a packages of spending bills nearly identical to those written by Republican-led Senate committees. But Trump has so far refused to sign any legislation that would lead to a partial reopening of the government, and Senate Majority Leader Mitch McConnell says he won't bring anything to the floor without the president's approval. While negotiations continue, the House will push forward noncontroversial bills—to support small businesses and require federal agencies to buy American flags made in the U.S., for example. Democrats will also start moving ahead on heavier legislative lifts, starting hearings on House Resolution 1, the For the People Act of 2019, a sweeping anticorruption bill that includes measures designed to protect voter participation through automatic registration, prohibit voter roll purges, and prevent outside interference in the voting system, as well as strengthen campaign-finance regulations and create more transparency for political contributions.
With Republicans still controlling the Senate—and, of course, the White House—H.R. 1 is mostly about messaging: It makes for good talking points but has little to no chance of becoming law. That goes for most of Democrats' top campaign promises, too. It will take all of Pelosi's political skill to persuade a divided Congress to take up measures to prevent insurance companies from charging more or denying coverage for people with preexisting conditions, enact meaningful climate change policy, mandate background checks for gun purchases, and protect young undocumented immigrants brought to this country as children. Says Sherman, "Nothing is going to be enacted into law of any consequence if Nancy Pelosi and Donald Trump don't agree to it."
It's not just Trump who's shaken the decorum of Pelosi's political world. The speaker has a legendary ability to keep her caucus together on floor votes, but she's already had to respond to various online distractions from her fellow Democrats. A tweeted video of Michigan's freshman Democrat Rashida Tlaib using profanity to say Congress will impeach Trump overshadowed much of the messaging that had been carefully crafted to present the new House majority to the American people. Asked about the incident, Pelosi told MSNBC she has a "generational" aversion to such language, but she's "not in the censorship business."
The left wing of the party has staked its ground early on policy as well. Even before new-member orientation in November, Alexandria Ocasio-Cortez, the 29-year-old representative from New York who unseated a 10-term incumbent in the Democratic primary, participated in a protest in Pelosi's office demanding a "Green New Deal" to create jobs in clean energy and wean the country off fossil fuels completely. About a week later the incoming freshman tweeted her support for Pelosi as speaker, and on the first day of the new Congress she praised Pelosi's harnessing of public sentiment to rally support for her causes.
"I think she's a very strong consensus builder, so she's really good at being able to bring together a lot of different factions to the table," Ocasio-Cortez says. "She's very effective." This has been the argument from Pelosi's camp all along. "Whatever the president wants to do, there isn't a scenario that Speaker Pelosi isn't going to be prepared for," says Ben Ray Luján, the New Mexico Democrat who bears the newly created title of assistant speaker. "She's the best, and at this point in our history, you want the best folks in the room."
Pelosi has tried to split the difference by listening to advocates for a bold liberal agenda while sticking to a more centrist approach that might, just might, squeak through a divided government. She agreed to hold hearings on Medicare for All, but she's made it clear that the starting place for health-care legislation will be refurbishing the Affordable Care Act. When asked about the Green New Deal, she recalls her first speakership, saying that climate was then her "signature issue," even mentioning her legislation from past Congresses as a possible starting point on the environment. She reinstated a select committee on climate, although it won't have subpoena power. Ocasio-Cortez rallied her supporters on Twitter to call for more muscle behind the climate subcommittee, saying she won't stand for "ceremonial gestures."
Politicians of all stripes will have to negotiate with a spotlight on government's internal workings, as immediate accountability to voters for every small motion of the political process makes it harder to strike deals that satisfy supporters. "I love transparency, but not all of this live-tweeting is healthy, by either side," Luján says. "We need to make sure that our colleagues understand what we do and the American public understands what we do, but we also need to be very cautious to give people the space to negotiate."
(
Updates with President Trump's Jan. 8 address and the Democrats' response.
)
Before it's here, it's on the Bloomberg Terminal.
LEARN MORE