LuLaRoe Founders Accused of Hiding Millions to Avoid Creditors
The leggings empire made Mark and DeAnne Stidham rich. So where's the money?
By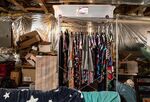 In 2017, LuLaRoe's wildly colorful leggings and tops became so popular online that the four-year-old company earned about $2 billion in revenue—about as much as J. Crew. But unlike J. Crew, LuLaRoe didn't sell its clothes to customers. It sold them wholesale to its tens of thousands of "independent fashion consultants," who in turn sold them retail.
Many of those people have struggled to find success with LuLaRoe, and the company has been sued by former consultants and customers alleging a wide range of misconduct, from improper sales tax collection to running an illegal pyramid scheme, all of which the company has denied. Now, a new suit takes aim at company founders Mark and DeAnne Stidham, alleging that they've hidden tens of millions of dollars in shell companies to avoid paying their creditors.
Late last year, Los Angeles-based clothing maker MyDyer sued LuLaRoe, claiming the company owes it $48.7 million for products and services. MyDyer also sued the Stidhams, saying they'd set up more than 20 limited liability companies as part of a "scheme to hinder, delay and defraud" creditors like MyDyer.
Of these companies, some of which have virtuous or vague-sounding names like "Straight and Narrow" and "Legal Fund," one or more paid for at least two Koenigsegg supercars worth an estimated $2.7 million, according to MyDyer's complaint. Mark Stidham's Koenigsegg Agra RS broke the land speed record last year. MyDyer goes on to list real estate and a private jet purchased by other LLCs that it says are "for purposes of shielding assets from [LuLaRoe's] creditors."
"The claims in this case are completely without merit and we will fight vigorously against them," LuLaRoe said in a statement. MyDyer declined requests for comment, citing the pending litigation.

MyDyer has asked the court to seize LuLaRoe's assets while this gets sorted out. In declarations of support, the company's head designer and a pair of former LuLaRoe sellers said Mark Stidham had bragged to them that he could quit at any time and fly off to the Bahamas or Wyoming. A hearing to argue the merits of receivership is scheduled for February.
The lawsuit is a startling about-face for MyDyer, which had been the company's primary manufacturer since 2016. As recently as March, MyDyer Chief Executive Officer Dan Kang spoke highly of LuLaRoe. He'd been introduced to the Stidhams by the company's former head designer, Patrick Winget, whom he had worked with in the past and considered a friend.
"With the lawsuits and the legal things, it's pretty frivolous … the reality is they're still strong," Kang said in an interview with Bloomberg at the time. According to MyDyer's lawsuit, a month later, LuLaRoe stopped paying its bills consistently.
LuLaRoe hasn't answered MyDyer's lawsuit yet. However, Mark Stidham did file a declaration in opposition to the request for a receiver and writ of attachment in which he noted that LuLaRoe had paid MyDyer more than $1.8 billion for clothes over the years and that the $48.7 million was "a very small fraction of the overall business." Stidham also claimed in his declaration that MyDyer overcharged LuLaRoe for past orders and that payment schedules were never strictly adhered to by either party, "with no objections from MyDyer."

The Stidhams founded LuLaRoe in 2013, building it into a billion-dollar business within a few years—and, according to its detractors, running afoul of skirting certain laws and regulations in the process. For example, the company for years paid consultants commissions based on their recruits' wholesale orders. The Federal Trade Commission, which has specific regulations for multilevel marketing companies, doesn't allow this; commissions have to be based on retail sales. Otherwise, a company might encourage people to buy its product without ensuring they could successfully sell it. 
When the wholesale-based commission was in place, LuLaRoe experienced explosive growth. By some accounts, as many as 150,000 people were selling its clothes. But after the company changed its compensation plan into one that complied with FTC regulations in July 2017, its wholesale orders dropped, according to Winget's declaration. Within three months, he says, LuLaRoe's monthly revenue had fallen 60 percent.
The commission switch was coupled with another unusual business decision. In April 2017, LuLaRoe offered to buy back any unsold clothing, a move that, in theory, would encourage people to buy more product. In reality it simply gave sellers an easy way to quit. The policy was in effect for only a few months before it was canceled in September 2017; in his declaration, Winget says LuLaRoe had paid nearly $120 million in refunds. By the time Winget quit in September, he stated in court documents, LuLaRoe was down to 35,000 active retailers.
Because people were buying significantly fewer clothes—or returning what they couldn't sell—LuLaRoe appears to have faced a cash crunch. According to MyDyer's complaint, LuLaRoe was supposed to pay for its orders within a week of delivery. MyDyer alleges that LuLaRoe hasn't paid for some products for as long as seven months, and that it sometimes asked MyDyer to store orders it couldn't yet pay for. Other times, MyDyer alleges, LuLaRoe asked the company to just get rid of them.
Meanwhile, many former LuLaRoe sellers say they've been waiting months for refunds. LuLaRoe replaced its 100 percent buyback policy with a more complicated and much less generous model. "We call it LuLaMath," says Kelly Ludwig-Johnson, 62. She says she had about 1,100 articles of unsold clothing when she quit LuLaRoe in March, but with all the new restrictions, only 79 of them were eligible for a refund. Ludwig-Johnson sent those 79 pieces back in May. She's still waiting for the promised $1,187 refund. Her emails to the company have gone unanswered.

In September, Ludwig-Johnson contacted the attorneys general in Oregon, where she lives, and California, where LuLaRoe is based. The Oregon AG contacted LuLaRoe, then relayed its response: The company wrote in an email that it was processing refund requests but it was a "time-consuming process."
"I know $1,187 isn't a lot. It's not going to break me, but there are thousands of people like me out there," says Ludwig-Johnson. "It's hard knowing Mark has million-dollar cars and people are owed millions in refunds." For its part, LuLaRoe wouldn't discuss any individual claim, citing confidentiality. "We remain committed to making the process as seamless and efficient as possible," it said in an email.
The precipitous drop in wholesale orders and in people willing to work as consultants would naturally put LuLaRoe in a financial bind. MyDyer's complaint alleges that the Stidhams and others associated with the company have used the family of LLCs to support a lavish lifestyle, rather than pay off their creditors.
The lawsuit paints a detailed picture: In March, MyDyer alleges, Mark Stidham showed employees pictures of his "multi-million ranch property in Wyoming" and claimed he was going to buy a neighboring property to get exclusive access to a nearby river. Six months later, MyDyer claims, Stidham refused to pay past-due bills, saying, "I am not going to pay you guys a f***ing dime unless a judge orders me to pay it, and DeAnne and I will take our two to three hundred million dollars to the Bahamas and f*** everything."
Tiffany Ivanovsky, who along with her husband, Paul, sold LuLaRoe until last summer, says she heard Mark Stidham make similar comments. "I heard Mark say, in a leadership meeting in October 2017 in Dallas, that there is only so much money to pay the GOOBers [consultants who quit and submitted refund requests] and screw that," she says.
Despite such statements, the Ivanovskys never left LuLaRoe. The company terminated their contract in August, accusing the couple of trying to start a competing company, which they deny. Selling LuLaRoe had been their primary source of income, earning them close to $200,000 a month.
"In the beginning, we didn't think they were trying to screw people," says Paul. "We just thought they were really shitty businesspeople."
Before it's here, it's on the Bloomberg Terminal.
LEARN MORE