politics
EU's Budget Stick Fuels Rather Than Stops Populism, Czechs Warn
By and
EU's Budget Stick Fuels Rather Than Stops Populism, Czechs Warn
By and
Top Czech diplomat says EU funds can't be tied to rule of law

Petricek sees debate on euro needed to examine benefits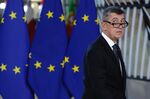 Threatening to punish European Union members financially for veering away from the bloc's democratic norms is fueling support for populist political forces around the bloc instead of curbing them, the Czech Republic's top diplomat said.
The EU's executive is locked in battles with post-communist members including Hungary and Poland over what Brussels has denounced as democratic backsliding. With few remaining options to enforce norms, Germany's ruling conservatives demanded last month that handouts from the EU's trillion-euro budget be linked to whether members uphold standards on the rule of law.
The Czech Republic occupies the middle ground in this dispute, with Prime Minister Andrej Babis's government resisting closer integration with EU structures while also not engaging in the type of governing that has been characterized as a slide toward authoritarianism in Warsaw and Budapest. Foreign Minister Tomas Petricek said the EU is right to demand adherence to its values, but financial penalties will only result in resentment.
"This idea as such is one of the reasons why populism is rising in some countries," Petricek, considered one of the most pro-EU figures in Babis's government, said in an interview in Prague this week. "Protecting the rule of law is primarily a matter of dialogue."
The debate has taken center stage before May's European Parliament elections, which may reshape future relations between EU member states. Hungarian Prime Minister Viktor Orban said the vote will be an opportunity for nationalist and anti-immigrant parties opposing immigration to form a majority in the legislature, take over the European Commission and then national governments.
Babis, along with Czech President Milos Zeman, joined forces with Orban and Polish ruling-party leader Jaroslaw Kaczynski to oppose EU quotas for accepting migrants during the continent's worst refugee crisis since World War II. A billionaire fertilizer and media magnate, Babis is also being probed by the European Parliament for potential conflict of interest over businesses that he founded that receive tens of millions in EU subsidies.
While Petricek said the EU must continue using tools to defend democratic values, he avoided criticizing Poland and Hungary directly, and said efforts to impose norms through force can only lead to negative reactions on the other side.
"I still hope that our partners in some of the richer countries understand that we joined the EU with some expectations, but that they also accepted us into their club because they saw benefits from the enlargement," he said.
Petricek, a member of the junior coalition partner Social Democratic Party, is also a rare voice among Czech politicians favoring closer ties with the euro zone. While the government has pledged not to take any steps closer toward adopting the single currency during its term, the minister advocates public debate about its merits.
"For us, as an export-oriented economy, the euro has benefits," he said. "It's important to be present at the discussions about what the euro zone will look like in 10 years because it will have a direct impact on us."