economics
Just for Laughs: A Few Light Moments From Fed's 2013 Meetings
By
Just for Laughs: A Few Light Moments From Fed's 2013 Meetings
By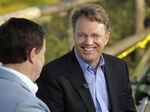 Central banking can be dry and nerdy. But back in 2013, members of the Federal Open Market Committee, the Fed's interest-rate-setting panel, found plenty of opportunities to share light-hearted jokes even as they debated how to support the slowly recovering U.S. economy.
Transcripts of the FOMC meetings, released Friday with their customary five-year lag, registered a number of occasions that generated "laughter," including now-Chairman Jerome Powell urging then-Fed chief Ben Bernanke to perform like the LeBron James of monetary policy.
Here are some of the best moments:
While calling for caution over purchases of mortgage-backed securities, San Francisco Fed President John Williams, who's now the head of the New York Fed, illustrated his point by recounting a scene from the film "The Lord of the Rings: The Fellowship of the Ring."
"The hobbit Bilbo is about to journey from the Shire and leave behind the ring of power. Yet when it comes time for Bilbo to go, he keeps unconsciously flipping the ring back into his pocket," he said during the April 30-May 1 FOMC meeting. "Like the hobbits in 'The Lord of the Rings,' we must overcome the temptation of the ring of power. So when the time comes, we should let it go." [Laughter]
Chicago Fed President Charles Evans entertained his colleagues with a tale of visiting the doctor to argue against expanding the policy statement to explain asset purchases.
"Many years ago, I let a doctor talk me into having an X-ray. I thought I didn't really need it, and he was going to inject something -- I don't know if it was radioactive, but it was something that caused me concern," Evans told the FOMC in March. "Of course, before he did it, he took me into his office. He showed me a piece of paper, and he said, 'Now, you have to understand, there is a risk that you may die because of this."'
Powell later shared his own doctor story to describe the perils of the FOMC press conference and his own tolerance for risk:
"About 15 years ago I walked into the doctor's office wearing my surgical gown and was handed a piece of paper. The doctor read it to me and asked me to sign that I understood that I might die at what I felt was a very elective thing. I handed it back to him unsigned, handed him my gown, walked out, and went back to work." [Laughter]

Powell also got a laugh at the June meeting as he urged Bernanke to make like basketball great James and take command of the post-meeting media briefing to calm investors shaken by the chairman's comments the prior month about tapering asset purchases.
"Going forward today, much rests on the shoulders of the Great Communicator," said Powell. "It's appropriate to give LeBron the ball at the end of the game.''