Business
Unilever's New Weapon in the Ice Cream War Is a Swole Treat
The food giant fights back with a high-protein, probiotic dessert.
By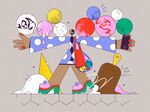 Since October, a new lineup of ice cream with postmodern flavors such as Turmeric Chai & Cinnamon, Cold Brew & Chocolate Chip, and Matcha & Fudge has been popping up in U.S. freezers. The brand—the deliberately misspelled Culture Republick—promises not only gustatory delight but also better digestive health with billions of live probiotic bacteria in every tub. The logo, in bright yellows, greens, and reds, shows a big "C" poised like Pac-Man to munch into the little "r." And the makers pledge to donate 10 percent of profits to local arts groups. In short, everything about the brand screams anti-establishment, the kind of thing you'd more likely find at a food co-op than at Walmart, Safeway, or Piggly Wiggly. It's made by Unilever.
Culture Republick is an effort by the world's biggest producer of ice cream to counter the growth of the likes of Halo Top, which last year became the category's No. 4 brand in the U.S., with $645 million in sales, says Euromonitor International. Unilever's stable of more than a dozen brands, including Ben & Jerry's, Magnum, and Breyers, last year made up about 10 percent of its global revenue—some $6 billion in total sales. But the Anglo-Dutch food giant knows it needs healthier offerings. At an investment conference in London this summer, Chief Financial Officer Graeme Pitkethly lamented that Unilever had "missed the trend in the U.S. for low-calorie, high-protein ice cream" and its stateside creamery business had been slow to respond to Halo Top.

Unilever isn't the only one playing catch-up. Pantry stalwarts such as Kraft Heinz, Mondelēz International, and Danone are suffering as shoppers turn away from major brands in favor of artisanal insurgents promising greater authenticity. Anheuser-Busch InBev has ceded market share to craft brewers, and Procter & Gamble's Gillette razor blades have been hit by subscription-based competitors such as Harry's and Dollar Shave Club, which Unilever acquired for about $1 billion in 2016. "You see challenger brands emerging across every category," says Chris Nurko, chief innovation officer at consulting firm Interbrand Group. "Large companies need to rethink how they view consumers."
Unilever and its rivals have introduced niche products aimed at vegans and others with dietary restrictions, but Culture Republick is more mainstream—though it's a world apart from sugar-laden cousins such as Magnum Double Caramel. The brand got its start last winter at Unilever's U.S. headquarters in Englewood Cliffs, N.J., where a five-person team—marketers, a supply chain expert, and a chef—met every Monday morning over the course of a year to prowl Instagram for inspiration and brainstorm potential flavors. They pitched ideas to focus groups of employees, tested names online through SurveyMonkey, and studied social media and search data with Google Analytics to find places with lots of consumers curious about digestive health. And they eschewed simple variants such as vanilla, chocolate, and cookie dough, instead drawing up lists of ingredients associated with wellness. "It reduces the experience somewhat if you just use slightly less sugar or slightly less fat, and we wanted to reimagine flavors," says Leslie Miller, leader of the group that created the brand and head of Unilever's ice cream marketing in North America.
The team kept a close eye on Halo Top, launched six years ago in Los Angeles by former corporate lawyer Justin Woolverton. The brand conquered the market by making flavors similar to those of rivals, but promising better nutritional value. Its Chocolate Chip Cookie Dough clocks 360 calories per tub, less than a third of the Ben & Jerry's variant—though some online reviews say Halo Top is pumped too full of air, making it less satisfying than its sweeter rivals. Key to the brand's success have been social media campaigns targeting people inclined to seek healthier options in areas where its products are stocked, rather than spending on in-store promotions. "This was a major overhaul of a very stagnant and set-in-its-ways category," Woolverton says. "You can see that both from our success and the number of knock-off brands now on the market."
Matt Close, who oversees Unilever's global ice cream business, says Culture Republick's fall/winter launch will let the company fine-tune its offering before lines start forming at the local Frosty Freeze. He says about a third of ice cream fans want a healthier alternative—and it's his job to ensure that the new brand will fulfill that desire while still feeling like an indulgence. "Just about everyone in the world loves ice cream," Close says. "It's really up to us whether we can make it an exciting market that brings more people in, or we let it become a market that our competitors define."
BOTTOM LINE -
Culture Republick aims to win back health-conscious consumers for Unilever with innovative, off-beat varieties of frozen desserts that promise better digestive health.
Before it's here, it's on the Bloomberg Terminal.
LEARN MORE