markets
Goldman Drops Strong Balance Sheet Recommendation on Dovish Fed
By
Goldman Drops Strong Balance Sheet Recommendation on Dovish Fed
By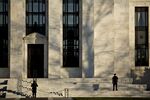 Goldman Sachs Group Inc. is no longer advising an investment strategy for near-term returns it has held for the past two years.
Because of a more dovish Federal Reserve, stabilizing economic growth and stretched valuations, the bank is closing its recommendation to buy stocks of companies with strong balance sheets. They outperformed those of firms with weak balance sheets since the Fed began its interest-rate increases at the end of 2016.
"The risk-reward has recently become less favorable," Goldman strategists led by David Kostin wrote in a note dated Feb. 8.
A pause in the Fed's hiking cycle should help companies with weak balance sheets, whose shares tend to outperform in periods of easing financial conditions, according to the strategists. On the flip side, stocks of companies with strong balance sheets are among the worst performing in the year following the end of Fed hiking cycles, when U.S. Treasury yields typically also decline.
Goldman also notes that strong balance-sheet shares typically underperform when economic growth is strong or accelerating, and vice versa. The firm assigns only a 10 percent probability of a U.S. recession in the next 12 months.
Valuations also look attractive. The median strong balance-sheet stock trades at 24 times forward earnings, compared with 14 times for weak balance-sheet equities.
That said, the investment bank still deems strong balance-sheet stocks attractive for longer-term investors or as a "tail risk hedge."