Does Stephen Miller Speak for Trump? Or Vice Versa?
The 31-year-old is a driving force behind the White House's policies.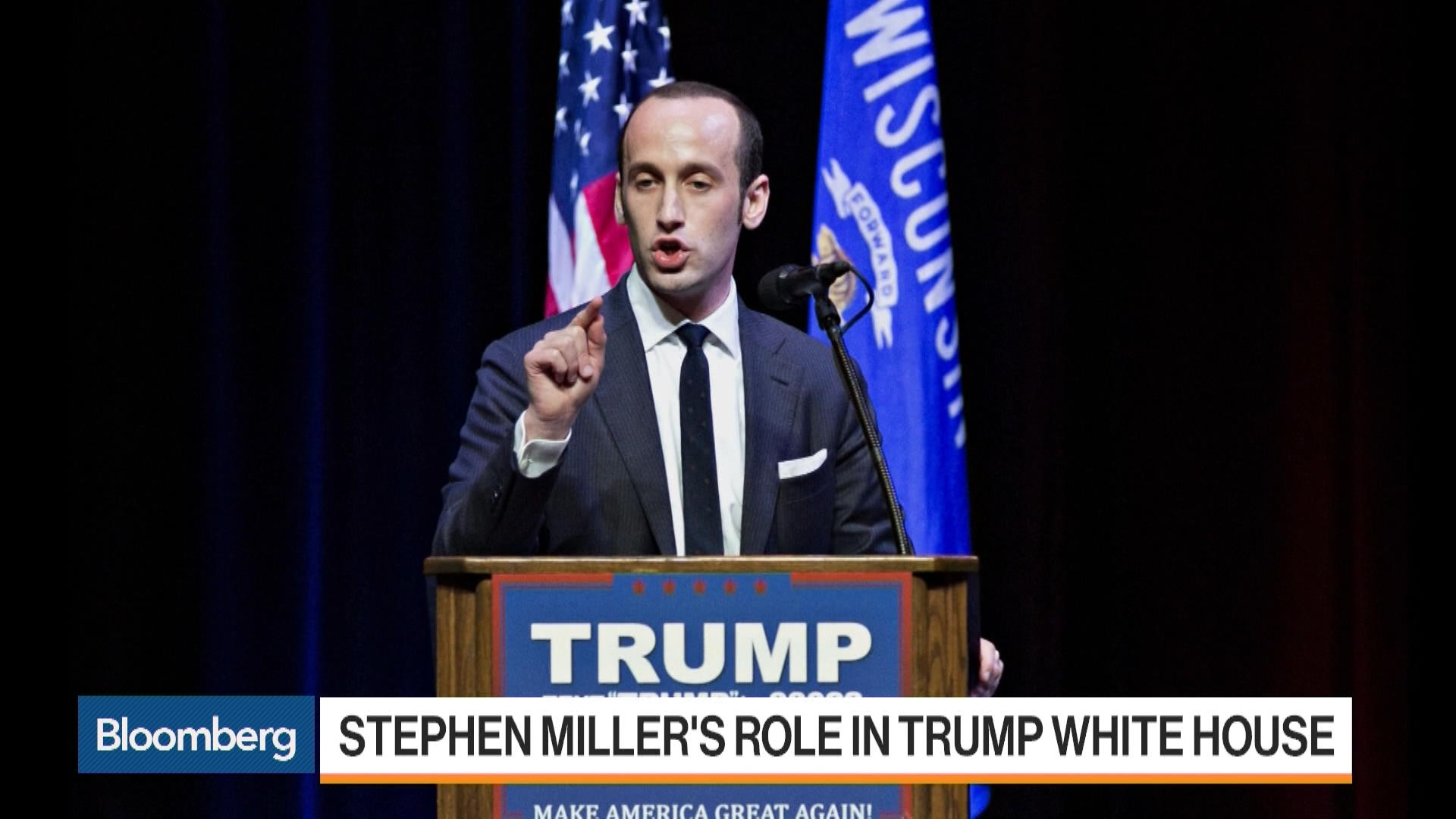 Stephen Miller's corner office in the West Wing of the White House is utterly barren—no pictures on the walls, no books on the shelves, no indication even of who inhabited the space a month earlier, before the Obama administration cleared out. "Couldn't tell you," Trump's intense and polarizing 31-year-old senior policy adviser says with a shrug. Miller isn't being unfriendly. Rather, his spartan surroundings and indifference to small talk are byproducts of a life pared of every detail that doesn't advance the singular glory of Donald J. Trump. Concerned that Trump wasn't accruing the praise Miller felt was merited, he wanted to set the record straight. "Donald Trump has fundamentally realigned American politics," he says, stabbing a finger on his desk. "It's time the media acknowledge this and give him the credit he deserves."
That's not, to put it mildly, the story preoccupying the media right now. Over the last few weeks, Trump's White House has exploded in chaos and infighting—a situation Miller exacerbated by helping to mastermind the sudden and much-criticized rollout of Trump's Jan. 27 executive order banning people from seven Muslim-majority countries, which federal judges swiftly blocked. In fact, it was no accident that the order was sprung without warning on a Friday afternoon. Trump's chief strategist Steve Bannon arranged the timing in the expectation that opponents, freed from work on the weekend, would stage huge protests—drawing maximum attention and galvanizing Trump supporters as the president followed through on a controversial campaign promise, says a senior administration official.
The order did indeed spark nationwide demonstrations, but things veered off script from there, as the White House struggled to explain to law enforcement officials, federal agencies, and foreign governments what the hastily drafted document did and didn't say. Miller in particular became the target of withering attacks by everyone from Republican elected officials to Stephen Colbert, host of The Late Show, which did a skit featuring Miller's severed—but still talking—head on a spike. Joe Scarborough, the co-host of MSNBC's Morning Joe, with whom Trump has a complicated psychological fascination, spent days deriding Miller, whom he dubbed "Little Napoleon." Yet not only has Miller survived the uproar and calls for his firing but he appears to be ascendant at a time when other West Wing staffers are diving for cover.
Over the contentious first month of Trump's presidency, key advisers have struggled to communicate his policies. His press secretary, Sean Spicer, has been flustered at the podium and cruelly lampooned on Saturday Night Live. Presidential counselor Kellyanne Conway has been blacklisted by several news shows for telling falsehoods and cited by the U.S. Office of Government Ethics for promoting Ivanka Trump's fashion line on Fox News, a "clear violation," it said, of rules against misuse of her White House position.
Meanwhile, Miller has maintained an unwavering composure under attack. On Feb. 12, the White House sent him out to do the rounds of Sunday talk shows. Where Spicer and Conway struggled, Miller, in his tailored suit and skinny tie, proved a smooth and imperturbable aggressor, confidently pressing Trump's most dubious claims. On ABC's This Week, Miller called Trump's immigration stance "magnificent" and, grinning slyly, lectured host George Stephanopoulos that Trump's Mexican wall would "pay for itself many, many times over."

When Stephanopoulos demanded Miller produce evidence for the president's assertion that he'd lost New Hampshire because "thousands" of illegal voters were bused in from Massachusetts, Miller looked almost bored by the challenge. "George, it is a fact—and you will not deny it—that there are massive numbers of noncitizens in this country that are registered to vote," he replied. "That is a scandal. We should stop the presses ... and I'm prepared to go on any show, anywhere, anytime, and repeat it, and say the president of the United States is correct. One. Hundred. Percent."
So audacious was Miller's performance that it became an internet meme. But he was really playing to an audience of one, and he scored a rave. Afterward, Trump tweeted: "Congratulations Stephen Miller—on representing me this morning on the various Sunday morning shows. Great job!"
Miller's resiliency after fumbling the refugee ban offers a lesson in how to survive the Darwinian world of Trump's White House. To win favor, you must amplify Trump's belief that he's already accomplished great things; defend even his most outrageous claims as self-evidently correct; and look sharp, while projecting unshakable self-confidence.
It helps, too, to have outside allies who have Trump's ear. The chieftains of right-wing talk radio view Miller as one of their own—he got his start in politics as an enfant terrible on conservative shows while still in high school—and they don't hesitate to give him air support. "All that noise that the media's making, 90 percent of it is bullshit," says Sean Hannity, the Fox News television and radio host who's close to the president and made himself available for this story at the suggestion of the White House. "Anybody writing or saying anything about him, including these dumb cable hosts—they have no idea of the relationship between the president and Stephen Miller, [who has] the president's full support. It's an art form, what Steve does for Donald Trump."
More important, Miller has the unwavering backing of Bannon. "I'm very sorry that the mainstream media does not like President Trump's agenda," Bannon says. "But they are going to have to embrace the fact that they, as the opposition party, who tried to destroy Donald Trump as a candidate, lost. And they lost significantly, OK? So they're going to have to sit there, and they're going to have to deal with the implementation of Donald Trump's agenda."

Bannon says Miller is being targeted by the media to thwart Trump. "When Joe Scarborough and the mainstream media attack Stephen Miller," says Bannon, "it's just like any opposition party. They'll try to take out some of the best young people in any organization. Stephen is a tough guy, I can tell you from the campaign. He's used to being absolutely vilified." (In a statement, Scarborough called Bannon and Miller "opposition party hacks [who] humiliate themselves by being so ignorant of American history and the Constitution that they declare in their big-boy voices that the president's powers are not to be questioned.")
It would be wrong, though, to view Miller as merely another embattled Trump mouthpiece. Unlike Conway or Spicer, he isn't a mercenary defending the president against all comers but a true believer charged with turning Trump's campaign rhetoric into actual policy.
Miller is an adroit combatant in part because Trump's ideas, especially on immigration, closely track with his own worldview. Miller spent 10 years as a policy staffer on Capitol Hill, most recently as the top aide to Senator Jeff Sessions, the new attorney general. Under Sessions, Miller was busy assembling the elements of a restrictionist "America First" nationalism long before Trump arrived on the scene. Today he has a heavy hand, along with Bannon, in crafting Trump's policy plans and executive orders. Miller also helps draft the president's major speeches, including the one Trump delivered to Congress on Tuesday night. When Miller goes on television to defend Trump's words, he's often defending his own writing. In a sense, Trump is giving voice to Miller as much as the other way around.
Trump tends to flummox just about everyone in Washington, but, within his close-knit circle, the plan is crystal clear. "It's all stitched together," Miller explains. "What you do on immigration policy, what you do on education policy, what you do on tax, regulatory, and energy policy all connects together—and will be based on a simple determination about what will make life better in America for American citizens."
Miller's survival is significant because his success or failure within the administration will go a long way toward determining whether the Trump insurgency becomes more than just a style of campaigning. Even as a 10-year veteran of Capitol Hill, Miller isn't a seasoned policy hand. In any other Republican administration, he'd have been lucky to land a second-tier job at a third-tier agency. But in the Trump White House, Miller stands out: He's one of the few people in the president's inner orbit who has actually worked in government. Prior to their roles in the current administration, Trump, Bannon, Conway, Spicer, Jared Kushner, and White House Chief of Staff Reince Priebus, along with Steven Mnuchin and Gary Cohn, Trump's top two economic advisers, had no government experience at all.
As Trump's agenda has stalled on everything from Obamacare repeal to refugee policy, Miller has become, almost by default, the man Trump partisans are relying on to deliver for them. "The president's ideas have to be fleshed out into a program of action," says Bannon. "Stephen is the driving force of implementing the ideas of President Trump."
Miller's talents for showmanship were nurtured at an early age. The son of Democratic parents reared in liberal Santa Monica, Calif., he rebelled by becoming a conservative with a talent for winning attention. At 16, he became a talk-radio sensation when he started making grand, performative displays of challenging the lefty groupthink at his public high school and then calling into the conservative, nationally syndicated Larry Elder Show to brag about his exploits, such as getting school administrators to reinstate the Pledge of Allegiance. At Duke University, Miller became a leading conservative activist and an outspoken defender on TV and radio of the white lacrosse players wrongfully accused of raping a black stripper.
After college, he headed straight to Washington, where he briefly worked as the spokesman for a pair of Republican House members, one of whom was Tea Party firebrand Michele Bachmann of Minnesota. But he soon found his way to Sessions, who was so conservative that he was widely regarded as an ineffectual gadfly, even by members of his own caucus. Miller, who won notoriety with reporters and aides for the passion and prolificacy of his press releases, was viewed similarly: as a crank. Although he operated at the fringe of Washington politics, he carried himself as a significant figure in the center of the action.
The impression of Sessions and Miller as ideologues tilting at windmills stemmed from their position as ardent anti-immigration hardliners at a time when Republican leaders were eager to shake off that image to broaden the party's appeal to the growing Hispanic population. "Sessions would go down to the Senate floor and just bang away on that message, day after day," says Jim Manley, a top aide to the former Democratic Senate Majority Leader Harry Reid. Although they succeeded in halting immigration bills such as the 2010 Dream Act, which gave children of illegal immigrants a path to citizenship, Mitt Romney's defeat in the 2012 presidential election—he carried just 27 percent of Hispanic voters—persuaded GOP leaders to push immigration reform in earnest.
In 2013, Sessions and Miller led the Senate opposition to the "Gang of Eight" bill, a bipartisan immigration reform measure led by eight senators that would have given a path to citizenship to the 11 million undocumented immigrants living in the U.S. while enlarging guest-worker programs for low-skilled workers in industries such as agriculture. The Gang of Eight bill became the central drama in U.S. politics in part because it had the seemingly unstoppable momentum of being a vehicle for the presidential ambitions of Senator Marco Rubio of Florida, the GOP's rising star. Even Fox News's Hannity climbed aboard. To many observers, Sessions's loud objections seemed pointless. Not to Miller. "I had the opposite view," he says. "My view was that there was no place I could be where we could have a greater influence on the outcome of policy."

Although the bill easily cleared the Senate, it bogged down in the House, in no small measure because of the efforts of Sessions and Miller. "If you go back and look at how we fought the bill," says Miller, "what you'll notice is the astonishing degree to which Sessions's opposition was grounded in research, details, specific criticisms—line by line, page by page." Sessions, a former federal prosecutor, attacked the Gang of Eight bill as if he were arguing before a judge.
His style rubbed off. "His whole approach to politics came from the vantage point of being a prosecutor," says Miller. "It made a profound impression on me and shaped how I approach policy." Indeed, Miller's slashing, polemical style, in policy papers and on television, has the feel of a prosecutor interrogating a hostile witness, with crisp, point-by-point refutations of the opposing argument that drive toward a clear verdict.
Initially, the collapse of immigration reform appeared to do nothing to elevate Sessions or Miller—or their ideas. An abiding complaint of populist conservatives at the time was that their views weren't represented in mainstream media or even in conservative alternatives such as Fox News, which, a White House official close to Miller argues, "only aired stories about Benghazi and the IRS scandal."
But there was one place where the issue of immigration caught fire and quickly spread: talk radio. "Among those informed about immigration, [the Gang of Eight bill] was shocking," Sessions told Bloomberg Businessweek last year. "It was a complete refutation of the voters' will—a kick in the teeth to decent Americans." Washington eventually moved on to other issues. But Sessions said he could tell from his frequent radio interviews that a backlash was brewing.
"He's 1,000 percent right," says Hannity, who converted to Sessions's position and promoted it on TV and radio. "I've been down reporting from the border at least a dozen times, from the Rio Grande to San Diego. You know why? It kept rating. People wanted to see it. My audience was learning from it."
People close to Trump believe that the movement that powered him to victory has its roots in the reaction to the Gang of Eight bill. One reason Trump's strength took so long to register with the political cognoscenti is that, as Sessions suggests, it spread through a medium they didn't pay attention to: right-wing talk radio and affiliated sites such as Breitbart News and the Drudge Report. Trump did pay attention. In 2014, when an unheralded economics professor from Virginia, Dave Brat, upset House Majority Leader Eric Cantor in a GOP primary race, Trump gave an interview to Breitbart that delighted conservative populists by blaming unchecked immigration.
"[Cantor's loss] is a great signal, because it tells them people want to get our house in order," Trump said in the 2014 interview. "If you look at what's happening in Texas right now, or other places, people are just flowing into this country just like it's an open-door policy. We're supposed to provide health care, and we're supposed to provide education—we're supposed to provide everything. … We take care of everybody else before we take care of our own people."
Miller swooned. In an e-mail the same day to a friend (who shared it with Bloomberg Businessweek), he wrote: "Trump gets it. I wish he'd run for President."
After the defeat of immigration reform, Miller began roughing out a broader policy architecture to encompass what Bannon would later dub "economic nationalism." It began defensively. When Obama issued an executive order in November 2014 shielding millions of undocumented immigrants from deportation (the Supreme Court later blocked it), Miller wrote an "Immigration Handbook" to coach Republicans on how they should respond: "His order grants five million illegal immigrants work permits, Social Security, Medicare, and free tax credits—taking jobs and benefits directly from struggling American workers." It included a densely footnoted history of U.S. immigration and a litany of what Miller views as its often-deleterious effects on the economy.
In January 2016, Miller shifted from defense to offense, joining the Trump campaign as a speechwriter just before the Iowa caucus. Immigration, of course, was central to Trump's agenda, and he discovered a fierce advocate in Miller. While Trump's vow to build a wall along the U.S.-Mexico border drew the most attention, his rallies also routinely featured parents of children murdered by illegal immigrants. Miller vehemently believes that the media is complicit with Democrats in hiding the negative aspects of both legal and illegal immigration—everything from the downward effect on wages caused by a surplus of workers to the danger posed by the 925,000 undocumented residents (170,000 with criminal convictions) who U.S. Immigration and Customs Enforcement officials say were issued orders to leave the country but still remain.
"The media tends to cover immigration issues through the frame of how it impacts everybody but actual citizens of the United States," Miller complains. "In other countries like, say, Britain, 'migrant reform' is understood to be changes they can make to the immigration system so it works better for people living in Britain. Maybe that's clamping down on abuse of migrant benefits. Maybe that's ensuring that guest-worker programs don't displace young British people from entering the workforce. Maybe it has to do with public safety, national security—but it's always understood in that context. Only in the U.S. has the term been co-opted to represent a wish list for special-interest groups."
Miller and Bannon want Trump to undertake a radical recasting of U.S. policies, from immigration to trade to taxation, that would invert this frame by making the interests of U.S. citizens (or what Miller and Bannon perceive to be their interests) predominant, almost to the point of exclusivity. This will entail confronting trade-offs most people prefer to ignore and making hard-headed decisions on emotionally charged issues, such as the status of refugees and Dreamers—decisions Miller, with Trump's blessing, has begun tackling already.
The order temporarily banning refugees from seven Muslim-majority countries is a prime example. Miller contends that national security concerns warranted the move but adds that refugees compete with U.S. workers ("Obviously, a smaller number of refugees will have some effects in terms of raising wages") and burden U.S. taxpayers ("because of how expensive American benefits programs are"), whereas "regional resettlement" would be cheaper. "For the prices of resettling one refugee in America," he says, "you can support 12 in their home region." (His numbers come from a study done by the Center for Immigration Studies, a conservative think tank in Washington.)
Despite courts blocking his refugee ban, Trump has already done a great deal. He's ended the "catch and release" protocol by which enforcement agencies release people caught in the country unlawfully as they await a judicial hearing; he says he'll force recalcitrant foreign countries to take back their criminal aliens; he's ordered the Department of Homeland Security to begin construction of the border wall; and he's greatly empowered immigration enforcement officers to arrest not just criminals but anyone they deem "a risk to public safety or national security."

"People don't appreciate the extent to which we've set in motion a substantial and long-overdue change to U.S. immigration policy, simply by directing the DHS to use existing laws and authorities," Miller says.
In Miller's view, documented and undocumented immigrants have taken jobs rightfully belonging to American citizens while reducing wages for everyone by flooding the labor market with workers. While working for Sessions, Miller often cited the quadrupling since 1970 of the foreign-born population in the U.S. to 41 million people, while noting that working-age U.S.-born Americans without jobs number about 58 million. "At a time of automation, globalization, intense pressures on the working class, outsourcing, offshoring, and enormous numbers of blue-collar workers who are unable to find work," he says, "it makes little sense to bring in massive numbers of workers to compete at the low end of the labor scale or through abuse of any particular program [such as the H-1B visa program for highly skilled workers] to have the effect of replacing those workers or driving down their wages."
While economists generally agree that tighter labor markets cause wages to rise, Miller's plan risks stunting overall economic growth. "You'll have a hard time finding a stronger advocate for full employment than me," says Jared Bernstein, who was Vice President Joe Biden's chief economist. "But I never thought that restricting access to our labor market or kicking out people who are here is the way to achieve it because, humanitarian implications aside, that damages both the supply side of the economy and economic growth. We already have a labor force that's growing too slowly. I don't think Trump will hit his GDP growth target either way, but he'll miss it by more if we further slow the pace of labor force growth."
Economic nationalism, as defined by Trump's advisers, would seize the levers of government and the presidential bully pulpit to direct resources to helping marginalized U.S. workers. It includes: tightening the labor market by restricting immigration and deporting those here illegally; reducing refugee admissions and reallocating funds to domestic initiatives; renegotiating trade deals; reforming the H-1B visa program, likely by raising the minimum income for skilled workers; stripping away business and environmental regulations to spur economic growth; reducing corporate tax rates through a border-adjusted tax that would favor domestic production and discourage U.S. companies from moving their headquarters abroad.
To this, Trump has added bullying U.S. corporations like Carrier Corp. and Ford Motor Co. to maintain domestic employment and limit foreign expansion and insisting the Keystone XL and Dakota Access pipelines use American steel. Although other issues have taken precedence, a senior administration official asserts that a trillion-dollar infrastructure plan that includes an infrastructure bank, direct government spending of $250 billion (in addition to tax breaks), and 100-year bonds remains a priority that will help U.S. workers.
Miller's us-vs.-them vision for overhauling U.S. policy and his combative defense of Trump have all the elements of a compelling talk-radio rant. But actually enacting Trump's agenda would deliver a tremendous shock to the political system, one sure to spark massive resistance. Trump can't go it alone. For all the impact his executive actions have had on U.S. immigration policy, the bulk of his agenda is legislative—and it has slowed to a crawl, despite Republican majorities in the House and Senate.
On Feb. 17, Republican Senate Majority Whip John Cornyn said, "The border tax is on life support." While Homeland Security can begin building a border wall, there's little sign that Congress will allot the full $20 billion it's estimated to cost. And at least for now, Congress has shown little interest in Trump's desire for a $1 trillion infrastructure plan.
In his Tuesday speech to Congress, Trump finally made a direct appeal for support. The imperative now shifts from talk to action. Trump is, in large measure, counting on Miller to navigate the treacherous legislative terrain and find ways to coax and reassure skeptical lawmakers. "I understand his vision, his ideas," Miller says. "I can be an implementer."
It won't be a natural role. Miller's experience on the Hill as an angry tribune of populist conservatism rarely involved the messy give-and-take of legislating. Under Sessions, his energies were directed at halting a president's agenda. Enacting one of his own is so far proving to be much harder.