Robert De Niro and Jane Rosenthal on Movies, Madoff, and Trump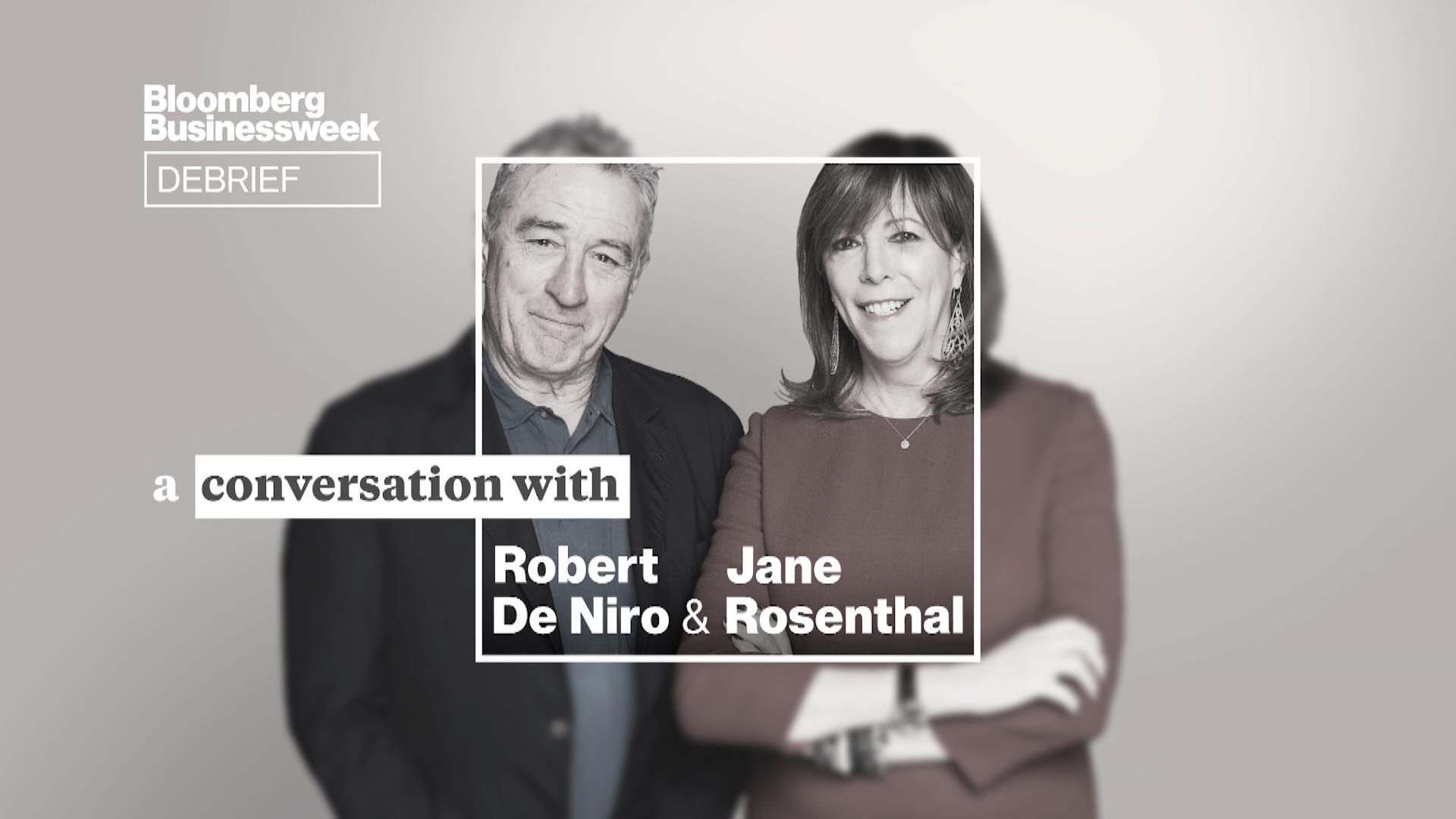 The co-organizers of the Tribeca Film Festival discuss the future of the entertainment industry.
Bob, you play Ponzi schemer Bernie Madoff in the docudrama The Wizard of Lies, which premieres next month on HBO. Despite this being the largest financial fraud in the history of the U.S., there's still so much mystery surrounding how much Madoff's family knew about the conspiracy and when they knew it. How do you get into a character like that?
De Niro: The one thing I always felt strongly about was that the kids didn't know anything. And I don't think his wife did either. He protected them. It's the classic con. Everybody comes to him, and they want to be part of this club. That whole thing evolved through his personality, his way of manipulating people.

It wasn't the easiest movie to get made. You optioned the book, by Diana Henriques, six years ago. I read that if you'd done it right away, the film would have focused on the scheme. It became more about the family breaking apart.
Rosenthal: As we got distance from the Ponzi scheme—one son, Andrew, died of cancer; one son, Mark, hung himself—you realized this was a broken family. Bernie hurt a lot of people. He was quite despicable. But he also hurt those he thought he was protecting and left them in a vulnerable position. There's a moment in the film where Mark says, "How do I trust anything about myself when the father who raised me, who taught me right from wrong, has lied about everything?" It made for magnificent drama.
How did HBO become your partner?
Rosenthal: This is not a movie that major studios are making today. It would be considered a smaller movie, so you would be doing this through the independent film route. And that's a lot of work.
I'm excited about The Irishman, which is about the life of mob hit man Frank "The Irishman" Sheeran, who confessed to killing Jimmy Hoffa. Martin Scorsese is directing. On this one, you're working with Netflix.
Rosenthal: It's wonderful for us, because if we want to make a certain kind of film, there's different venues now to go to. There's different opportunities for financing that you didn't have a number of years ago. You have to differentiate what's good for a project—where it belongs, on what platform.
What do you think is the next disruption to entertainment? Is it virtual reality?
Rosenthal: Virtual reality is still so new. It's going to take a while—until the headsets get to be more practical and affordable, beyond the cardboard ones. But that's where gaming is going—esports will be a huge business. It certainly is already with League of Legends.

Gaming is a passion of yours, and it's going to be a big part of the festival this year.
Rosenthal: I'm always interested in nonlinear storytelling. This year we have [Metal Gear creator] Hideo Kojima giving a keynote and a conversation with Ken Levine, who did the BioShock series. They're some of the most extraordinary storytellers in gaming.
This is the festival's 16th year. What are you most proud of?
De Niro: I'm proud that it lasted this long and that it's becoming part of the fabric of the city—a tradition that'll last forever.
Rosenthal: You think back to that first year, 2002. We opened the festival on the steps of City Hall with President Clinton and Nelson Mandela, who gave us permission to watch movies. You couldn't go from being a recovery operation downtown after 9/11 to screening movies. Mandela said, "You've got to celebrate community."
Bob, Jane's been a producer on a number of your movies. What do you think has been the secret of your partnership?
De Niro: People need freedom to do whatever they feel they can do best. And then you direct them when you feel that things are not quite the way you want to go. We don't have many disagreements. I trust her, and I know that she'll do the right thing.
Rosenthal: It's about communication. We've certainly had healthy disagreements.
De Niro: She's smart. She knows when to leave me alone.

Let's talk about diversity in film. Jane, this is something you've been involved in throughout your career. How are you pushing that forward?
Rosenthal: We have the Tribeca Film Institute, and one of the things we do year-round is support diverse filmmakers and untold stories.
Bob, do you think the entertainment industry is doing enough to diversify?
De Niro: Probably not. Slowly, it's changing. It's not changing as fast as people would like it to change.
Rosenthal: I don't think it'll ever be perfect. But is it better than it was 10 years ago? Yes. You have more women directors, more women behind the scenes, more people of every color. And you have the opportunity to go to a Netflix, an Amazon, a Hulu to tell new stories.
Bob, what do you have left that you want to do? What's on your bucket list?
De Niro: I'm doing The Irishman, which I'm looking forward to. And then I'm doing a thing with David O. Russell for two seasons at this point. It's sort of a family saga.
A TV series?
De Niro: Yeah. It's for Amazon.
Rosenthal: Even 10 years ago, you wouldn't have someone like Bob crossing back and forth between film and TV. Now, people do it with ease. There were real dividing lines in Hollywood. You didn't even eat in the same restaurants. (Laughs)
Talking about dividing lines: We're operating in a different time now than we have been. Bob, you've been quite vocal about President Trump. Is there anything in the first 100 days that has made you think, This could be better, this could be worse?
De Niro: I always try to give every situation that I feel is negative the benefit of the doubt: It'll change. It'll get better. I haven't seen that with him. I don't think it will change. He will do certain things like he did in Syria. But I don't know where that's going to go. I'm worried that we're going to get into a situation where we have a real confrontation. Other than that, he's debased the presidency.

We see Saturday Night Live with Alec Baldwin playing Trump and Melissa McCarthy playing Sean Spicer. One of my concerns is that the lines are blurred now between what people expect from the political class and what they expect from entertainment. Are you concerned about this convergence of reality TV and political life?
De Niro: This is not The Apprentice. This is real. Everything he says and does is important and has an impact. It's not a game. He's so narcissistic and so self-centered—I don't know whether he gets it. I don't understand how he became president. A lot of us feel that way. It's mortifying.
Would you ever be interested in playing Trump in a film?
De Niro: No. (Laughs) I think Alec Baldwin does a great job. (Laughs)
When you look at the targeted budget cuts that Trump would make—the National Endowment for the Arts, the National Endowment for the Humanities, PBS, etc.—what are you telling people about their voice going forward?
Rosenthal: These voices need to be heard. We're remembered by our culture. He might want to be remembered by a tweet. But artists have always made it through in the most difficult times. It's in our DNA. It's how we started the film festival—artists joining together to say that we're still here after a terrorist act on our country. We'll persevere.

Is there anything the entertainment industry can do to reduce partisanship?
De Niro: As a country, we represent so many good things to the rest of the world. Progressive things. I'm sorry that we don't appeal to people in the middle of the country who have their own needs and issues, and rightfully so.
Rosenthal: What we do all share is the need for jobs. The entertainment business employs people who are working behind the scenes. People who are electricians, who are driving trucks.
In 1997, Jane, you were a producer on Wag the Dog, in which Bob plays a spin doctor who starts a fake war with Albania to cover up the president's sex scandal. The phrase "wag the dog" was trending on Twitter after the president bombed Syria, a reference to how that event might be seen as a diversion from the Russian inquiries he's facing. How prescient was that movie?
Rosenthal: It's interesting to look at the language of that film now. Bob has a line where he's like, "Deny, deny, deny." We thought we were just doing a good satire. Little did we know.
Q&A has been edited and condensed for space.