The Women's Libido Pill Is Back, and So Is the Controversy
Depending on whom you ask, Addyi is the overdue answer to an unmet need or just another way to shame women.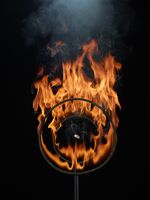 Photographer: Victor Prado for Bloomberg Businessweek
This past January, when Cindy Eckert got back the keys to her old office in Raleigh, N.C., she walked into a time capsule. An empty water glass still sat on the receptionist's desk. Piles of marketing materials were gathering dust. Boxes with three-year-old FedEx labels had never been shipped. It was the first time Eckert had entered the office since she sold—and was then pushed out of—her company, Sprout Pharmaceuticals Inc. She and her then-husband started the company to bring to market the first drug to enhance female sexual desire. Since that moment, the story of Addyi, the pink pill, has been frozen in time.
Addyi, the brand name for flibanserin, hit the market in 2015 and the buzz was instant. Inevitably, the media dubbed it "female Viagra." But Valeant Pharmaceuticals International Inc., which had just bought Sprout for $1 billion, almost immediately faced a distribution scandal having nothing to do with Addyi, and the drug was dragged down with the rest of the company. It's languished ever since. In a typical month, about 600 prescriptions are filled, compared with almost 800,000 for erectile dysfunction drugs Cialis, Viagra, and Viagra's generic equivalent.
Advocates for Addyi are quick to point out that it's far from a female Viagra, and not just because it's generating a fraction of the sales. Viagra is used as needed to improve a man's erection; it's a question of blood flow, not necessarily desire. Addyi, on the other hand, is taken daily to restore a woman's appetite for sex and treats a specific medical condition: hypoactive sexual desire disorder, or HSDD. The drug's approval in 2015 came after years of opposition and two rejections by the U.S. Food and Drug Administration. Believers said the world's women had long been waiting for a treatment of this kind, addressing a condition that had until recently been dismissed by the medical community.
"I've watched how deeply held our beliefs are around women and sex," Eckert says. "This condition is so personal, it's incredible to me that others would continue to pile on shame by saying it's not real."
The counterattack against the drug has been furious, and in many instances led by women. These forces contend that one woman's sexual abnormal is another woman's normal, and it's not uncommon for a woman's desire to wax and wane throughout her life. They say it's more typical for women to respond to their partners' overtures rather than spontaneously feel desire for sex—and that these women shouldn't be shamed by drugmakers into thinking there's something wrong with them.
"It's the story of disease mongering. The creation of a condition that's really not a condition," says Leonore Tiefer, a sex therapist and former co-director of the Sex and Gender Clinic in the department of psychiatry at New York's Montefiore Medical Center. Tiefer has spent much of the past decade arguing at regulatory meetings and with op-ed pieces that there's a wide spectrum of normal sexuality. A woman with a low libido, she argues, doesn't need medication. "What's been going on for the past 10 years is a campaign on the part of Big Pharma to recruit doctors as front people and spokespeople to promote a condition that doesn't exist," she says.
Addyi all but disappeared from view in the wake of Valeant's implosion. Now it's back—and so is the debate. Eckert regained control of the drug late last year after settling one of the more bizarre lawsuits in pharma history. Valeant not only wound up handing the drug back to her at no upfront cost, it also advanced her a $25 million loan to help get the business restarted.
On June 11, Sprout relaunched Addyi with an online prescription service. Whether it becomes a blockbuster this time or fizzles, its reappearance is inspiring a public discussion of an intensely private subject: What is a healthy sex drive? And who gets to decide the answer? Is low sexual desire a medical problem or simply a fact of life? Should we give these women a drug? Is this the right one?
Until roughly 40 years ago, a woman lacking sexual desire wouldn't have had many options. She was frigid, and that was life. Scientific literature largely focused on excitement and orgasm, not desire or the absence of it. (William Masters and Virginia Johnson's groundbreaking work, Human Sexual Response, published in 1966, didn't get into desire disorders.) The discussion began to shift in 1977 when Helen Singer Kaplan, who'd established a prominent sexual disorder clinic in New York, wrote a paper titled "Hypoactive sexual desire" for the Journal of Sex & Marital Therapy. It planted the seeds for today's diagnosis: a total or near-total lack of libido that a person finds distressing. That last part is crucial: The diagnosis applies only to someone who's unhappy with her state.
Kaplan hypothesized that sexual desire originated in the circuits of the limbic brain, which governs emotions, and focused in particular on the role of neural transmitters. Decades later, brain scans would show she was on to something. Neuroimaging of patients with HSDD showed different responses to erotic stimuli from those of people who didn't have the condition. The prevailing thinking is that flibanserin works in patients with HSDD on three chemicals in the brain: serotonin, dopamine, and norepinephrine. In simple terms, it alters the relationship between inhibitory chemicals in the brain (serotonin) and excitatory ones (dopamine and norepinephrine). The drug counters the effects of serotonin to reduce inhibition signals.
Studies showed that flibanserin had a positive effect on restoring sex drive in laboratory rats. James Pfaus, a professor of psychology at Concordia University in Montreal, found that after 21 days on the drug, female rats whose sex drive had been diminished through hormone alteration started soliciting male rats for sex six to eight times in 30-minute tests, or about normal levels of desire for rats. (A "full solicitation," in rat terms, is when a female rat kicks a male in the face and runs away.) Flibanserin seemed to work in humans, too: The drug didn't increase a woman's sex drive exponentially, but rather restored it to a more normal state for her.
"If you have somebody who's depressed, and you give them an antidepressant, you don't want the drug to make them joyous and turn them into a manic state. You want the drug to return them to normal function," says Leonard Derogatis, an associate professor of psychiatry at Johns Hopkins University School of Medicine. "That's exactly what the goal is with all the sexual drugs. You don't want to have women dragging men off the street into the bushes. You want women—and women want—to return to their normal state of sexual desire."
Montefiore's Tiefer had been an animal sex researcher herself, but she dropped that line of study after she came to believe that the most important influences on human female sexuality were things pharmaceuticals couldn't touch: namely, culture and society. She got her Ph.D. in experimental and physiological psychology at the University of California at Berkeley in 1969, and her thinking is informed by the feminism of that era. "I was one of these people who was hit on the head with a meteor," she says of the movement's influence on her view of treating sexual dysfunction. "It was obvious female sexuality was about culture."
The pharmaceutical industry is much less interested in culture, of course, than it is in creating drugs to sell. Viagra, introduced by Pfizer Inc. in 1998, was an instant success, and so the company began testing it on women. The findings were inconclusive. Procter & Gamble Co. tried to get approval for a testosterone patch to help improve women's sex drives, but an FDA advisory panel recommended the agency turn it down in 2004 out of concern about side effects. A company called Palatin Technologies Inc. has been working for more than a decade on a female sexual dysfunction treatment; North American rights have been licensed to AMAG Pharmaceuticals Inc., which will go to the FDA for approval within the year. This drug, an injectable, is meant to produce desire on an episodic basis—in which case it may in fact be something like a female Viagra.

Eckert, now 45, was 16 years into a career in the pharmaceutical industry, primarily in business and marketing, when she first came across flibanserin. It was at a 2010 meeting of the Sexual Medicine Society of North America, where she was representing the company she owned at the time with her then-husband, Bob Whitehead. (The company, called Slate, brought an injectable testosterone pellet to the market, and in 2010 ran into trouble with the FDA for allegedly making misleading marketing claims. The issue was "fully resolved," Eckert says.) Flibanserin had recently been rejected by the FDA, and Boehringer Ingelheim GmbH, the German pharmaceutical company that developed the drug in the 1990s, was giving up on it. Still, when Eckert ran into Irwin Goldstein, a urologist and prominent sexual health researcher, he asked her to look at some videos he'd recently recorded of clinical test subjects for whom the drug worked. He'd had to ask the women for the pills back when Boehringer pulled the plug on the trial. You need to see their reactions, he told Eckert.
The women sat in his office, dejected, telling him stories about how the drug had revived their sex lives. Eckert was moved by Goldstein's recorded testimonials. She also saw an opportunity. In April 2011 she and Whitehead flew to Germany to talk with Boehringer about acquiring flibanserin. The deal they later struck was unconventional, to say the least: Eckert and Whitehead would own the drug without paying anything upfront. Boehringer got a stake in Sprout, which was created to market and sell flibanserin, and the right to royalties.
Eckert embraced the role of public crusader, attending FDA hearings and encouraging women's organizations to join the cause and fight for what the media had taken to calling the little pink pill. Eckert found the nickname patronizing; later she adopted pink as a statement of ironic rebellion. Her outfits invariably incorporate hues of searing pink, with nails to match. At investor conferences with rooms full of men in dark suits, she's easy to spot.
Initial trial results under Boehringer hadn't satisfied regulators because they didn't show that the pill improved desire when measured on a daily basis. Flibanserin backers thought that was an implausible goal. Sprout had new data for the FDA showing that the drug achieved what the company considered a more realistic outcome: Women who took it experienced increased desire on a monthly basis and also experienced from one-half to one more sexually satisfying experience (SSEs, in the lingo) per month than those taking a placebo. These were median results, reflecting that the drug didn't work for everyone. For those for whom it did work, the response was sometimes more dramatic.
Flibanserin was back in front of the FDA in 2013. That same year the American Psychiatric Association erased hyposexual desire disorder from its diagnostic manual, merging the condition with arousal dysfunction. It was a blow. Flibanserin critics used the decision to put Sprout on the defensive. If HSDD was no longer even a medical condition recognized by the APA, how could the FDA condone approving a drug to treat it? The FDA rejected flibanserin for the second time, saying it was insufficiently effective to justify its risks.
This is the point at which most drugmakers go away. A company is typically free after a rejection to come back for another shot after acknowledging the agency's terms for further consideration. But not a lot of drugs get approved after two rejections, and there's a perception in the industry that it's unwise to push back too hard.

Sprout not only didn't give up, it also contested some of the FDA's requirements for continuing, and the agency backed down from one of the most onerous, another large-scale trial. Still, Eckert and her allies saw a system that was hostile to even the premise of the drug. "I said, 'You're going to have to go after the sexism,' " says Anita Clayton, chair of psychiatry and neurobehavioral sciences at University of Virginia Health System, who's worked with Sprout as an adviser. "And so they started looking at advocacy."
In early 2014, leaders from organizations including the National Organization for Women and the National Consumer League descended on the FDA office in Silver Spring, Md., and met with agency officials. Lawmakers also lobbied the agency. "You currently have a large data package under review at the Agency for what could represent a first approval for the treatment of the most common form of female sexual dysfunction," Democratic Representatives Debbie Wasserman Schultz, Chellie Pingree, Nita Lowey, and the late Louise Slaughter wrote in a letter to the FDA. "We urge careful review."
Patients who'd been taking the drug in trials joined in. Amanda Parrish, a medical sales worker who lives in a suburb of Nashville, testified at an FDA hearing in October 2014 and at a meeting of the FDA advisory committee the following June. A divorced mother of four, she was in a relationship that she considered healthy, except that she had no interest in having sex. Then she read about the clinical trials.
"It was so painfully awkward," Parrish says of the couple's life before she tried flibanserin. "He was beginning to suspect I was having an affair or that I no longer loved him." Two or three weeks into starting treatments, Parrish, in her mid-40s at the time, discovered she was flush with desire. "All of a sudden, I felt the flutter, and I'm stunned, and it's noon, and I'm in my car." She asked her partner, in what she thought was a provocative way, to meet her at lunchtime. "He was so nonsuspecting that he was like 'I already ate.' And I was like 'That's not what I'm suggesting.' "
Women who didn't have access to the drug showed up, too, including some younger ones. Katherine Campbell traveled to the hearing (at the expense of organizations including Sprout) and the advisory committee meeting (at Sprout's expense). She'd had her first child at 27, and her interest in sex bottomed out soon after. "I just pleaded with the FDA," she says of the hearings. As soon as the drug was approved, she got on it. "After about a week and a half, two weeks, of using it, I noticed a difference. It was modest, it was subtle, but for me it meant I went from maybe having sex zero times, maybe once every three months, to about once or twice a month," Campbell says. "It didn't turn me into some kind of sex-crazed nympho, but here I am: I'm still married, I have a third kid."
As Sprout went on the offensive, critics of flibanserin also turned up the volume. Emily Nagoski, a sex educator, wrote an op-ed in the New York Times in February 2015 arguing that low sexual desire isn't a disease. "It turns out many people (perhaps especially women) often experience desire as responsive, emerging in response to, rather than in anticipation of, erotic stimulation. Arousal first, then desire," she wrote. Others focused on the potential hazards of taking the pill, particularly after release of the results of an FDA-mandated drinking study. Twenty-three men and two women were given a dose of flibanserin and then a specified amount of alcohol (the equivalent of either two or four glasses of wine, depending on their weight). Some experienced declines in blood pressure; others had to lie down. The significance of that was intensely debated.
In June 2015 an FDA advisory panel, after hearing arguments from both sides, voted 18 to 6 to recommend approval of flibanserin. In August the agency approved the drug, with the brand name Addyi. There was a caveat. Women on the drug would have to agree to forgo all alcohol.
The approval was bound to be controversial, but the alcohol ban made it much more so. Two writers for the New York magazine website The Cut characterized it as "more like a roofie than a love potion ... when mixed with alcohol." The drug can cause dizziness and sleepiness for some women, so much so that it has to be taken at bedtime. Proponents say, however, that the FDA went overboard with its restrictions. "It's beyond absurd. Nothing is completely safe, but we take practical precautions with any medications that have this risk," says Sharon Parish, a professor of medicine in clinical psychiatry at Weill Cornell Medicine. "There's so much scrutiny to it and so much gender bias—or so much antisexuality."
Then, two days after the approval, Eckert and Whitehead announced they'd sold their company to Valeant for $1 billion in cash. For the anti-Addyi camp, there was no better proof that Eckert was more about cashing out than helping women. "The big news was Valeant. It proved the whole thing was a sham," Tiefer says. "Selling it to a company with a record of gouging, I mean, please. I could hang up my shoes."
Eckert's defense is that she doesn't need to defend herself. "At that moment in time, given all the information that I had, it was the best outcome," she says. Valeant's chief executive officer, J. Michael Pearson, "was going to keep all my people on my team. It was going to be decentralized. We were going to get to be Sprout. And we were going to have a bank account that we had never operated under."
The arrangement was short-lived. Not long after the deal closed, Pearson told Eckert it was time to think about moving on. Slowly but surely, other Sprout employees were let go until the Raleigh office was empty.
That might have been the end of Addyi. But when Sprout sold itself to Valeant, Eckert struck a royalties deal based on the expectation that sales could hit $1 billion in the drug's first two years on the market. Instead, Addyi was on track to take in less than $10 million in 2016. In a lawsuit, Sprout investors accused Valeant of not fulfilling its commitment to market the drug. The two sides settled late last year in an unusual agreement: Valeant, which not much earlier had made Eckert a very wealthy woman, would hand back Sprout and Addyi in exchange for the investors' dropping the suit. Valeant also gave her a $25 million loan to get things started in exchange for a small cut of royalties from future sales. For a second time, she'd won control of the drug without having to write a check.
Eckert is doing everything she can to keep tight control of Addyi's rebranding. Her first move is slashing the monthly price—it will fall to $400 from $800, and patients without insurance coverage will pay no more than $99 for a monthly prescription. That's a virtually unprecedented move for a brand-name drug; drugmakers generally raise prices annually. She's also presenting new data to the FDA that she hopes could lead to loosening of the drinking restriction. Canada approved the drug earlier this year with far less stringent rules around drinking.
To sell Addyi, Eckert is turning to telehealth. Through a website designed in—what else?—hot pink, women will be put in contact with doctors affiliated with an independent network. The doctors will conduct consultations by phone and, for those whom they diagnose with HSDD, write prescriptions. Women will be able to fill them at drugstores or through a mail-order pharmacy.
The telehealth approach is efficient and private. It also seems likely to produce a lot of positive diagnoses for HSDD—which will further inflame the debate. Eckert's view is that her customers, rather than engaging with a medical establishment that tends to view women's desire problems with skepticism, will be turning to doctors sympathetic to their condition and trained to recognize it.
The model (minus the skepticism) already exists for men. Sites such as Hims and Roman peddle the generics for Viagra and the hair loss drug Propecia. The marketing pitch for those businesses is straightforward: Now you can get these pills without talking to your regular doctor about your sexual problems.
Popping a little pink pill may never be the answer for some women. "It's selling a Band-Aid for a case of sepsis," Tiefer says. Try telling that to women who've already gotten their sex drives back thanks to Addyi, Eckert would say. And those who may be about to. "My simple answer is if you don't have HSDD, lucky you," she says. "If you have it and you don't want to take Addyi, good for you. It's all about choice."

(
Corrects Leonore

Tiefer

's title in the sixth paragraph.
)