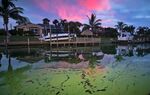 Toxic Slime Is Ruining Florida's Gulf Coast
Algae blooms poison waters and marine life during peak vacation season.
A colorful toxic slime has blanketed several communities on Florida's Gulf Coast, covering boats, docks and wildlife with a thick green goop and forcing people out of their homes.
Cape Coral, across the Midpoint Memorial Bridge from Fort Myers, is among those hardest hit. The bacterial coating (popularly but imprecisely called algae) adds further injury to an area that, after the 2008 financial crisis, made the top 10 list of cities in the U.S. with foreclosure filings.

The same sun, warmth and water that draw people to Florida's western coast are what catalyzed the most recent grotesque bloom of cyanobacteria. The ancient microorganisms can occur naturally in many bodies of water in low concentrations, but in the presence of certain nutrients, the colonies can thrive and grow out of control, producing harmful toxins and side effects for both animals and humans.

Like many others, this ecological disaster has clear human causes, namely decades of slathering the Florida peninsula in the chemicals cyanobacteria love most. Nitrogen and phosphorus turn up in agricultural fertilizers, which Florida restricts the use of, and in under-treated sewage water or leaking home septic systems.

Heavy spring rains washed chemicals from the ground, and the area's drainage system concentrated them into Lake Okeechobee, where the summer's green bloom incubated. Discharges from the lake added nutrients to the rivers, and consequently to Cape Coral's extensive system of canals.

Cyanobacteria blooms expire when the summer weather that called them into existence gives way to autumn. Cooler temperatures kill the cells, and nature washes away the rest. One massive bloom on Lake Okeechobee in 2005 sat festering until Hurricane Wilma came along to obliterate it.


Green slime is only one of the colorful ecological disasters plaguing Florida. Wind and currents chose this summer to push algae called Karenia brevis, commonly found in the Gulf of Mexico, along 130 miles of the western coast. The resulting algae produces neurotoxins that can kill fish and animals and cause respiratory problems in people. At high concentrations, the harmful algal bloom takes on a rust-colored hue—which is why it's known as red tide. It's so bad that last week, Governor Rick Scott declared a state of emergency and ordered $1.5 million in funding in seven Florida counties.


There are enough legacy "nutrients" (or chemical build-up) loaded into the soil around Cape Coral to cause headaches for the next 50 to 75 years. According to Karl Havens, a University of Florida professor and director of the Florida Sea Grant College Program, the timing and severity of the blooms is hard to predict.
"We've had so much nutrient in the landscape that the weather controls whether we have an algae bloom," he said. "That's a bad state of affairs because you can't control the weather."