Politics & Policy
Trump Does a Pretty Good Nixon Impersonation
His firing of Sessions and threat to the Mueller investigation has that Saturday Night Massacre feel to it.
By
Trump Does a Pretty Good Nixon Impersonation
His firing of Sessions and threat to the Mueller investigation has that Saturday Night Massacre feel to it.
By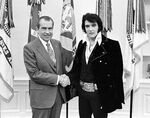 Today's Agenda

Trump's Nixon Reboot

President Donald Trump hasn't pulled a Saturday Night Massacre yet, but give him time — it's only Thursday.
Trump yesterday finally put his longtime target of florid abuse, Attorney General Jeff Sessions, out of his misery. Sessions's original sin was recusing himself from oversight of Special Counsel Robert Mueller's probe of Russian meddling in the 2016 election. And Trump has temporarily replaced him with Matthew Whitaker, who has made a side career out of criticizing Mueller. You can see where this is going. It all has a Nixon-on-Saturday-night feel to it, writes Jonathan Bernstein. He warns Trump to heed the warning of Tricky Dick, whose standing among Republicans crumbled quickly after he fired a bunch of AGs until he found one who would fire his own special prosecutor. 
But Trump has long shown he will choose survival over doing what most of the rest of us would consider the "right thing," writes Tim O'Brien. That almost certainly will include doing away with the Mueller probe. As Jonathan Bernstein put it in a separate column about Trump's unhinged post-election news conference, the president doesn't seem to realize that "threatening to damage the nation in order to protect himself and his administration from oversight is inexcusable." It's yet more evidence, Jonathan writes, that Trump is not fit to hold his office.
Advice for Dems
The Democrats are in charge of the House of Representatives now — or, as Stephen Colbert put it on Tuesday night, one-half of one of the three branches of government. Still, the Dems can do some constructive things with this toehold of power (beyond the House's important oversight role; more on that below). At the very least, they can push for their economic priorities, which could even attract some Republican support. Four of Bloomberg Opinion's top economic minds — Stephanie Kelton, Karl W. Smith, Noah Smith and Michael R. Strain — lay out their ideas for what the Dems should prioritize. Spoiler alert: There's not much consensus, though only one of the four thinks Dems should make the deficit their top priority.
In a separate column, Noah Smith writes Dems should not be shy about the policies they propose. These could include universal health care, immigration reform and a carbon tax, for starters. Would most Republicans or Trump go along? Almost certainly not! But trying could "help inspire the country with the promise of real solutions and a better tomorrow," Noah writes. 
About that carbon tax, though: Tyler Cowen points out, as Liam Denning did yesterday, that relatively liberal Washington state rejected a carbon-tax-like initiative in the latest midterms. Tyler notes this is something of a trend: Democrats couldn't pass a carbon tax even when they ran the whole government, way back in 2009. Maybe it's time for economists to think up a new strategy, Tyler writes.
Bonus midterms reading: 
Wilbur Ross Is Prime Investigation Bait
The other thing House Dems will be busy doing is investigating the Trump administration, which is such a target-rich environment that it's easy to go overboard. But Joe Nocera makes the case that Commerce Secretary Wilbur Ross truly deserves a closer look. Citing the reporting of Forbes's Dan Alexander, Joe suggests Ross might be "Trump's most corrupt cabinet member, which is saying something in a cabinet that includes Interior Secretary Ryan Zinke, and once included Scott Pruitt." Alexander's stories allege enough lies, conflicts of interest and misdeeds that Ross is "a government official who practically demands to be investigated by Congress," Joe writes. 
The Future Is a Traffic Jam
Traffic in Los Angeles and New York is bad, but it's a scooter ride at a playground compared to the epic jams in developing countries, notes David Fickling:

And it's only going to get worse as people in these countries get richer and buy cars. Solutions include road and auto restrictions and public transportation. But a crowded city like Beijing has all of that stuff and still has monstrous traffic jams. As David puts it: "If you want a vision of the future, imagine a boot idling on a brake pedal while stuck in traffic — forever." Read the whole thing.
Telltale Charts
BlackRock Inc. CEO Larry Fink is worried federal budget deficits will rain financial catastrophe on the U.S. Brian Chappatta suggests he will be very lonely in this worry as long as this chart holds more or less true:

The packaged-food industry has problems, but pot edibles won't fix them, writes buzzkill Sarah Halzack.

Train Reading
The struggles of Dmitry Rybolovlev show how hard it is for wealthy Russians to escape the pull of home. – Leonid Bershidsky
Europe's likely new banking supervisor will be an Italian, and he could be just the person to deal with his home country's bank problems. – Ferdinando Giugliano
The Trump administration's waivers for Iranian oil are more strategic than they seem. – Esfandyar Batmanghelidj
Don't laugh, but phones with foldable screens could be the next big thing. – Leonid Bershidsky
Tesla Inc.'s new board chair is not the outsider the electric-car maker needs to control Elon Musk. – Liam Denning
The strong labor market is helping retail workers in two ways. – Conor Sen
ICYMI
Lloyd Blankfein had an early meeting with the men behind Goldman Sachs's 1MDB scandal. Ruth Bader Ginsburg fell and broke three ribs. The rise of the Honeycrisp apple is a nightmare for farmers. Snoop Dogg has Thanksgiving tips.
Kickers
Scientists use neutrinos to study the earth's interior.
Central Park's rare mandarin duck is missing. 
69-year-old Dutch man wants to legally lower his age by 20 years. (Same.) (h/t for the first three kickers to Scott Duke Kominers)
Swimming all the way around Great Britain can cost you your tongue, feet, discovers the first person to ever do it.
Give Ethiopian kids who have never seen a printed word some tablets and no instructions, and they will hack them within days. (h/t for the past two kickers to Uffe Galsgaard)
How a father's stresses get passed to his offspring. 
Native Americans populated North and South America very quickly, new studies have shown.
A brief history of the sentence "Buffalo buffalo buffalo buffalo buffalo."
Note: Please send duck, suggestions and kicker ideas to Mark Gongloff at mgongloff1@bloomberg.net.
New to Bloomberg Opinion Today? Sign up here and follow us on Twitter and Facebook.
To contact the editor responsible for this story:
Brooke Sample at bsample1@bloomberg.net