Technology & Ideas
Ctrip Isn't the Last Stop for China's Troubled Train
The writing is on the wall for big-name tech stocks as consumers pull back.
By
Ctrip Isn't the Last Stop for China's Troubled Train
The writing is on the wall for big-name tech stocks as consumers pull back.
By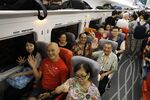 First there was Baidu Inc. and Alibaba Group Holding Ltd.
Now Ctrip.com International Ltd. joins the gang of Chinese internet companies unable to avoid the headwinds of an economic slowdown.
Nobody thought that 40 percent growth rates would last forever, but investors clearly were surprised by the online travel agency's tepid fourth-quarter guidance.
On Thursday morning in Asia, the company reported third-quarter revenue that beat estimates. But the outlook for growth of 15 percent to 20 percent this period disappointed investors and prompted sell-side analysts to start slashing their own forecasts. At least five brokerages downgraded the stock.
The result: a 19 percent plunge in New York on Thursday, the most since its 2003 IPO.
Investors who were surprised by the weakness haven't been paying attention.
Alibaba already cut its full-year guidance. Baidu even cited a range of discretionary categories for its weaker fourth-quarter outlook including lifestyle, interior design, and online commerce. 
Travel is one of the most discretionary of categories — often the first to go when consumers start penny-pinching. Ctrip made matters worse by forecasting non-GAAP operating margin of 0 percent to 1 percent.
That's a huge drop from 20 percent in the third quarter. It's also important to note that Ctrip widened that figure from 16 percent in the second quarter primarily because of  "operational efficiency," a fancy word for cost-cutting. So that better profitability wasn't top-line driven, and there are limits to how far you can trim expenses. 
Investors who were unprepared for Ctrip's weakness need to consider that Tencent Holdings Ltd. reports next week and Xiaomi Corp. the following. Others on the slate include NetEase Inc., Sina Corp. and JD.com Inc.
If you think things look bad now, you ain't seen nothing yet.
To contact the editor responsible for this story:
Rachel Rosenthal at rrosenthal21@bloomberg.net