Technology & Ideas
Now's Not the Time to Celebrate Tencent Earnings
Games remain a problem, while one-time items and new businesses propped up numbers for the Chinese internet company.
By
Now's Not the Time to Celebrate Tencent Earnings
Games remain a problem, while one-time items and new businesses propped up numbers for the Chinese internet company.
By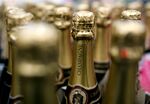 Tencent Holdings Ltd. may struggle to repeat the better-than-expected earnings it delivered in the third quarter.
In the face of numerous challenges, the Shenzhen-based internet company reported net income that surpassed analyst estimates by 27 percent. Tencent shares rallied as much as 4.6 percent in Hong Kong on Thursday. That looks optimistic.
The top earnings contributor was the IPO of Meituan Dianping, which made its trading debut in Hong Kong on Sept. 20, and drove Tencent's profit from one-time items to 8.8 billion yuan ($1.3 billion). The exact fair-value gain on Meituan wasn't stated, yet the total figure for the category was 4.8 billion yuan more than a year earlier — roughly equal to the scale of the net-income beat.
Meituan's share price has declined 17 percent this quarter. Given the current market mood it'll be tough to turn that around, let alone deliver another fair-value gain to Tencent.
Then there's games. After China suspended approving licenses to monetize new titles, Tencent managed to avoid a train wreck by buying games from independent studios. Some of its biggest hits, like "Fortnite," are getting a lot of traction but collecting minimal revenue. Acquiring outside titles that already have licenses is a great workaround, but one that can't be repeated indefinitely. It may be more expensive because Tencent probably has to pay licensing fees to the developer, which will compress margins.
Advertising was the standout winner for Tencent during the quarter, and that's the category with the widest margins. More than 80 percent of the year-on-year expansion in online ad revenue was from "social and other," meaning WeChat. Management has been careful not to flood the feed with promotions lest they scare away users, and so far that strategy has worked. It's probable Tencent will show similar restraint in the current period, which will hold back top- and bottom-line growth.
Finally its "others" category, which is mainly cloud and payments, saw a 69 percent revenue increase during the quarter. But these are low-margin businesses. With heavy competition from rivals such as Alibaba Group Holding Ltd., we shouldn't expect major contributions to profit even if revenue keeps expanding.
This leaves hopes of a sustained profit pickup in the hands of games until the company's strategy of focusing on corporate clients and new businesses finds momentum. 
The worst of the storm may be over for Tencent, but that doesn't mean the sun is ready to shine.
To contact the editor responsible for this story:
Matthew Brooker at mbrooker1@bloomberg.net