politics
Trump Praises Montana GOP Lawmaker for Body-Slamming Reporter
By
Trump Praises Montana GOP Lawmaker for Body-Slamming Reporter
By
Greg Gianforte pleaded guilty to criminal charge after episode

President says someone who can body slam is 'my kind of guy'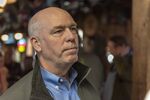 President Donald Trump praised a Republican congressman for assaulting a reporter who asked him a question on the eve of a special election last year.
Trump celebrated the episode as he introduced Montana Representative Greg Gianforte at a rally in Missoula, Montana, on Thursday evening. Gianforte pleaded guilty to assault after he body slammed Guardian reporter Ben Jacobs for asking a question on health care legislation.
The next day, Gianforte won a special election for Montana's U.S. House seat.
"Any guy that can do a body slam, he's my kind of guy," Trump said, mimicking the action to the cheers of the crowd. "I shouldn't say that, but there's nothing to be embarrassed about."
He called Gianforte "a great guy, tough cookie."
Trump raised the incident amid calls for a stronger response from his administration to reports that U.S.-based journalist Jamal Khashoggi was ambushed inside the Saudi Arabia's consulate in Istanbul, then tortured, killed and dismembered.
While members of Congress are threatening to sanction the Saudi government, Trump, who has cultivated closer ties to the kingdom, has taken a cautious stance, stressing the long alliance between the U.S. and Saudi Arabia. But as he left Washington to travel to the rally Thursday, Trump warned of "very severe" consequences for the apparent killing.
Read More: Montana Republican Wins U.S. House Seat After Assault Charge
After his election in May 2017, Gianforte was sentenced to serve 40 hours of community service and attend 20 hours of anger management classes for throwing the reporter to the ground and breaking his glasses. He also wrote a letter of apology in which he acknowledged assaulting Jacobs for asking "a legitimate question about health care policy."
In a statement on the Guardian's website, John Mulholland, the newspaper's U.S. editor, said "to celebrate an attack on a journalist who was simply doing his job is an attack on the First Amendment by someone who has taken an oath to defend it."
Asked on Friday whether he regretted making the comments at the rally, Trump said: "Greg is a tremendous person. You're talking about a different world." He didn't elaborate.
(
Updates with additional Trump comment in final paragraph.
)