Politics & Policy
Trump's Government Isn't Ready for a Crisis
Empty desks at FEMA and the State Department are symptoms of a bigger problem.
By
Trump's Government Isn't Ready for a Crisis
Empty desks at FEMA and the State Department are symptoms of a bigger problem.
By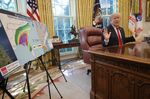 Two of the biggest stories this week are Hurricane Michael and the missing Saudi dissident who may have been murdered in Istanbul. What do they have in common? For one thing, Donald Trump's administration still doesn't have enough people in place to deal with either crisis -- almost 20 months into his presidency.
Bloomberg's Christopher Flavelle has the story of empty desks at the Federal Emergency Management Agency.
We know how this works. Without a nomination from the president and confirmation by the Senate, it's hard for the people temporarily handling those jobs to make anything happen. They have less clout with whoever is leading the agency; less clout with the White House; less clout with Congress; and less inter-agency and inter-governmental clout during an emergency. In short: Why should anyone listen to someone who isn't going to be there for very long?
And then there's the State Department. Here's an excerpt from a briefing with Deputy Spokesperson Robert Palladino on Tuesday:
QUESTION: And then in terms of your high-level diplomatic talks, other than the calls you -- other than the calls that you've read out here, presumably you have people on the ground in both Ankara, Istanbul -- in Ankara, Istanbul, and Riyadh all pushing this, right?

MR PALLADINO: Our embassies overseas, absolutely.

QUESTION: Okay.

MR PALLADINO: Our diplomatic mission overseas.

QUESTION: Who again -- what's the name of the ambassador in Turkey right now?

MR PALLADINO: I don't have that in front of me right now and I -- Matt --

QUESTION: What's the name of the ambassador in Saudi Arabia right now?

MR PALLADINO: I see what you're getting at. Okay. We are confident in our diplomatic --

QUESTION: The answer is that you don't have an ambassador in either place, right?

MR PALLADINO: We --

QUESTION: And in fact, the charge in Riyadh has now been nominated to be the ambassador to Yemen. So just is it correct that you do not have ambassadors in place in either Ankara or Riyadh?

MR PALLADINO: But we have diplomatic staff, senior diplomatic officials --

QUESTION: I'm sure you do.

MR PALLADINO: -- very much -- very much in charge. And yesterday Heather spoke at the top as well about the need for the State Department to get its full team on the field, and we definitely would reiterate our request for our colleagues in the Senate and their assistance in fielding our full camp.

QUESTION: Understood. Who has been nominated to be the new ambassador to Turkey, and who has been nominated to be the new ambassador to Saudi Arabia? Who are the nominees who are awaiting Senate movement?

MR PALLADINO: Matt, I don't have that in front of me right now. And -- but let me just say these are senior Foreign Service officers that have had full careers and we're confident in our team's ability.

QUESTION: You're sure someone's been nominated for both positions?
In fact, there's no nominee for either position. Only about half of the most important State Department positions that require Senate confirmation are now filled, and lots of ambassadors are missing. How much does that matter during the current situation? It's hard to know, but it doesn't help. 
One bottleneck seems to be that the administration and Senate Republicans have made judges, and not executive branch personnel, their priority, including some highly controversial judicial nominees. Trump has also nominated quite a few people to executive branch posts who are guaranteed to draw strong Democratic opposition. Those are choices he's entitled to make. But using nominations to pick fights -- especially given that Trump is unpopular and Republicans have a bare Senate majority -- has predictable consequences. 
As it is, candidates for only one of the FEMA positions and 11 of the many vacant ambassadorships have been nominated and then cleared by committees for confirmation votes in the full Senate. That's the point where Democrats can slow things down, and they have. Feel free to assign them a share of the responsibility. But it's hard to blame Democrats for anyone who hasn't reached that stage. And the administration could've fought a lot harder for its existing nominees, if that's really what the president cared about. There's very little sign that he does.
In other words, responsibility for the empty desks lies overwhelmingly with the Trump administration. 
Of course, plenty of people in government are working hard to help out during the hurricane. And, as Palladino points out, even without ambassadors there are senior foreign-service officials on the ground in Turkey and Saudi Arabia. But every empty desk makes chaos, miscalculation, and miscommunication more likely, whether it's during a natural disaster, a foreign crisis, or any of the other things that the executive branch has to deal with all the time. It's no way to run a government. 
1. Robert Griffin and John Sides on economic anxiety and the 2016 and 2018 elections. 
2. Eric McGhee, Sarah Bohn and Tess Thorman on California and the 2020 census. 
3. Peter Allen and Sarah Childs look at women in parliaments. 
4. Adam Bonica and Michael McFaul advocate for an Election Day holiday.
5. Dan Drezner on Nikki Haley. 
Get Early Returns every morning in your inbox. Click here to subscribe. Also subscribe to Bloomberg All Access and get much, much more. You'll receive our unmatched global news coverage and two in-depth daily newsletters, the Bloomberg Open and the Bloomberg Close.
To contact the editor responsible for this story:
Timothy Lavin at tlavin1@bloomberg.net