Economics
This Economy Can Take Bad News, Just Not All at Once
The expansion chugs along despite higher freight costs last winter, a blow to consumer products this spring, and slumping auto and housing stocks this fall.
By
This Economy Can Take Bad News, Just Not All at Once
The expansion chugs along despite higher freight costs last winter, a blow to consumer products this spring, and slumping auto and housing stocks this fall.
By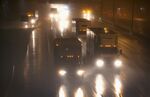 This economic expansion in the U.S. can take a hit and keep going. Apparently it can take even two or three — as long as they don't all come at once.
Lucky for Americans, the cost pressures so far have been staggered.
The first wave came last holiday season, with evidence that a truck driver shortage was finally manifesting in the form of higher spot rates for trucks. Producers scrambled to secure trucks however they could.
That first wave spilled over into corporate earnings this spring, when consumer goods companies reported disappointing results — hurt by higher-than-expected freight costs as well as higher prices on raw materials because of the trade war. That second wave crushed the stocks of companies like Procter & Gamble and Kraft Heinz. When the consumer staples ETF put in its low for the year, in early May, it was down almost 5 percent year-to-date compared to the S&P 500, which was broadly unchanged.
The third wave has arguably been building for months and has accelerated in the minds of investors in recent weeks: a slowdown in the auto and housing sectors. There are two cost-related issues confronting both sectors. Like with consumer staples, costs have been a concern, because of both the trade war and supply chain difficulties.
Compounding that difficulty has been the increase in interest rates since the end of August, with the 10-year Treasury rate rising from 2.85 percent to north of 3.2 percent. While interest rates have been in an uptrend for a while, such a rapid increase, particularly at multi-year highs, could make prospective buyers sit on their hands for a little while.
The good news is that the economic data remain strong. These three bursts of cost pressure have been manageable, even if not transitory. While the U.S. may continue to have a truck driver shortage, last week's jobs report showed that employers have added 33,000 truck drivers over the past year, and the August producer price index report showed, for the first time since late last year, a deceleration in the growth rate of freight pricing. Since making their low in early May, consumer staples stocks have rallied, as investors have gotten more comfortable with the cost pressure story and as companies begin to pass those price increases on to consumers.
This quarter's earnings season for auto and housing stocks may end up being to those sectors what spring was to consumer staples. A pause in demand should allow supply chains to catch up, and might relieve some of the cost pressures that companies have been dealing with. As long as the economic trend remains robust, demand should eventually follow as workers get raises and as consumer confidence remains strong. Investors will eventually get comfortable with whatever the new normal is.
The parts of the economy that investors should worry about are the ones that haven't yet felt cost pressures or household budget constraints. They might be next. Perhaps consumer staples, auto and housing will all stabilize, and the next wave will be travel, entertainment and dining budgets that are squeezed.
Rolling waves of cost pressures that hit different sectors at different times allow investors to triage the damage discretely without creating broad-based panic in financial markets. The Federal Reserve can remain confident enough to increase interest rates at a gradual pace rather than feeling the need to speed up — which could derail the expansion. We're seeing the Goldilocks scenario – for now.
To contact the editor responsible for this story:
Philip Gray at philipgray@bloomberg.net